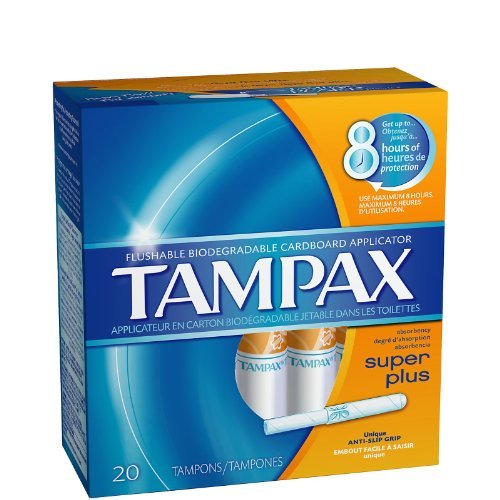 Tampax Tampons with Flushable Applicator, Super Plus Absorbancy - 20 ea
Quick Overview
Tampax Tampons with Flushable Applicator, Super Plus Absorbancy - 20 ea   Flushable, Biodegradable-Tampax tampons, cardboard applicators and wrappers are flushable and biodegradable.Any toilet and drainline can clog if overloaded...

Note: Check shipping rates on checkout page
Tampax Tampons with Flushable Applicator, Super Plus Absorbancy - 20 ea
Flushable, Biodegradable-Tampax tampons, cardboard applicators and wrappers are flushable and biodegradable.Any toilet and drainline can clog if overloaded with bulk waste. Tampax Tampons For best results, flush tampon and applicator separately from bath tissue.Great Protection with Moisture Lock - Naturally abosrbing fibers help to securely hold liquid.
Flushable and Biodegradable - Clean, easy disposal. Strong Durable Wrapper.For the Best Protection and Most Comfort Choose a Combation of Absorbencies to Match Your Flow.The risk of Toxic Shock Syndrome (TSS) increases with higher absorbency. In order to reduce your risk of TSS, you should use the lowest absorbency that meets your needs.Super Plus absorbancy range 12-15 grams.

Tampax Tampons With Flushable Applicator, Super Plus Absorbancy contains Cotton and/or Rayon Fiber, Rayon Over Wrap, Cotton String. 
Directions:

See inside package. 

Warnings:

Tampons are associated with Toxic Shock Syndrome (TSS). TSS is a rare but serious disease that may cause death. Read and save the enclosed information. 
Image may vary from actual product due to Continuous manufacturer Product updates. Information we provide your reference only.