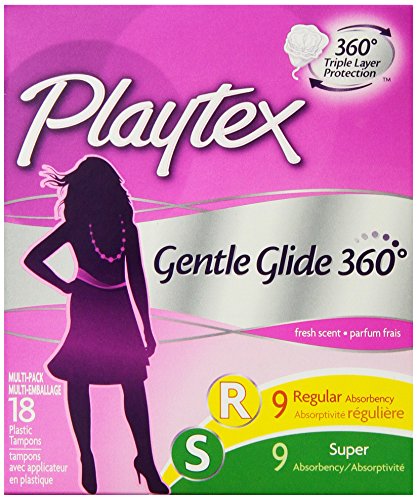 Playtex gentle glide tampons deodorant, multi pack - 18 ea
Quick Overview
Playtex gentle glide tampons deodorant, multi pack - 18 eaPlaytex Gentle Glide Tampons have just what you need to feel confident-and comfortable. Playtex Gentle Glide Tampons Deodorant have a smooth...

Note: Check shipping rates on checkout page
Playtex gentle glide tampons deodorant, multi pack - 18 ea
Playtex Gentle Glide Tampons have just what you need to feel confident-and comfortable. Playtex Gentle Glide Tampons Deodorant have a smooth rounded tip plastic applicator that makes insertion so easy and comfortable and the tampon itself blooms to fit for amazing comfort and protection. So your period's the last thing on your mind. The absorbencies of all tampon brands have been standardized. Use this information to compare Playtex absorbencies to other brands. Select the minimum absorbency needed to control your menstrual flow in order to reduce the risk of getting TSS. 
Rayon Fiber, Polyester or Cotton String, Polysorbate-20, Fragrance. 
Warning :
Tampons are associated with Toxic Shock Syndrome (TSS).TSS is a rare but serious disease that may cause death.Read and save the enclosed information. 

Image may vary from actual product due to Continuous manufacturer Product updates. Information we provide is for your reference only.