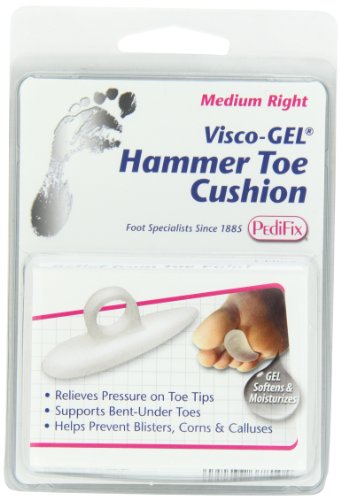 Pedifix Visco-Gel Hammer Toe Cushion, Medium - 1 ea
Quick Overview
Pedifix Visco-Gel Hammer Toe Cushion, Medium - 1 eaVisco-gel hammer toe cushion helps relieve hammer, mallet or arthritic toes, while easing pressure on toe tips. Helps prevent corns, calluses and...

Note: Check shipping rates on checkout page
Pedifix Visco-Gel Hammer Toe Cushion, Medium - 1 ea
Visco-gel hammer toe cushion helps relieve hammer, mallet or arthritic toes, while easing pressure on toe tips. Helps prevent corns, calluses and blisters, and comforts related foot pain. Gel slowly releases mineral oil to soften and moisturize skin. Cushions and supports bent-under toes. Relieves pressure on toe tips that can cause blisters, corns. Effective for hammer, claw and mallet toe conditions. Relieves ball-of-foot pain often associated with hammer toes. Make shoes and walking more comfortable
Direction :
With wide end of hammer toe cushion pointing toward big toe and flat side facing the floor, position product under toes. Slip the strap over second, third or fourth toe. Pull on hosiery carefully and readjust product as needed. For best results, do not wear shoes that compress toes together.

Warning :
If have diabetes or poor circulation, consult physician before using this product. Non-sterile. Do not use this item on broken skin. Remove product from foot for at least four consecutive hours daily. If this product causes to have skin discoloration, numbness, irritation or pain, discontinue use immediately.


Image may vary from actual product due to Continuous manufacturer Product updates. Information we provide is for your reference only.