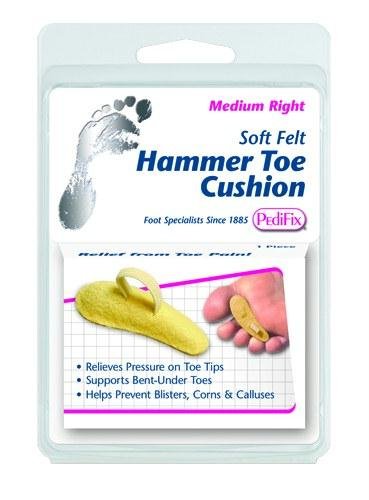 PediFix Hammer Toe Cushion Small Left - 1 Ea
Quick Overview
PediFix Hammer Toe Cushion Small Left - 1 EaHammer Toe Cushion relieves pressure on toe tips. They relieve pain by easing pressure on toe-tips as it comforts and supports bent-under...

Note: Check shipping rates on checkout page
PediFix Hammer Toe Cushion Small Left - 1 Ea
Hammer Toe Cushion relieves pressure on toe tips. They relieve pain by easing pressure on toe-tips as it comforts and supports bent-under toes. This soft, curved pad also helps prevent blisters, corns and calluses. Adjustable toe loop holds cushion securely in place. Durable top cover. 
Direction :
With wide end pointing toward big toe and flat side facing floor, position cushion under little toes. Slip strap over the second, third or fourth toe. Pull loose end of strap gently until cushion fits comfortably against skin. Do not adjust strap too tightly. Pull on hosiery and readjust as needed. When removing product from foot, take off carefully to prevent strap from slipping out of slot. Care: Hand wash. Air dry completely before reuse. 

Warning :
Adjusting strap too tightly will prevent proper circulation. If you have diabetes or poor circulation consult your physician before using. Do not use this product over inflamed or broken skin. Discontinue use immediately if toe pain, numbness, skin discoloration or irritation occurs. Keep Out of Reach of Children. 



Image may vary from actual product due to Continuous manufacturer Product updates. Information we provide is for your reference only.