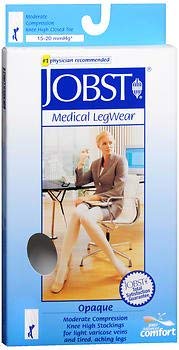 Jobst Stockings Opaque 15-20 mm/Hg Compression Knee highs Beige, small - 1 ea
Quick Overview
Jobst Stockings Opaque 15-20 mm/Hg Compression Knee highs Beige, small - 1 ea Luxuriously smooth and easy to wear. Lightweight and highly effective in optimizing leg health. Special processing and...

Note: Check shipping rates on checkout page
Jobst Stockings Opaque 15-20 mm/Hg Compression Knee highs Beige, small - 1 ea
Luxuriously smooth and easy to wear. Lightweight and highly effective in optimizing leg health. Special processing and a silicone blend softener make these stockings one of the easiest to put on. Resilient yarns allow for greater durability. Reciprocated heel and toe for better fit and durability. Smooth design and soft texture provides softer more fashionable look with the ultimate in year-round coverage.Condition: Mild swelling, spider veins, tired, aching legs, varicose veins-mild.-Sold as a pair. 
Please read all label information carefully on delivery and prior to use.


Image may vary from actual product due to Continuous manufacturer Product updates. Information we provide is for your reference only.