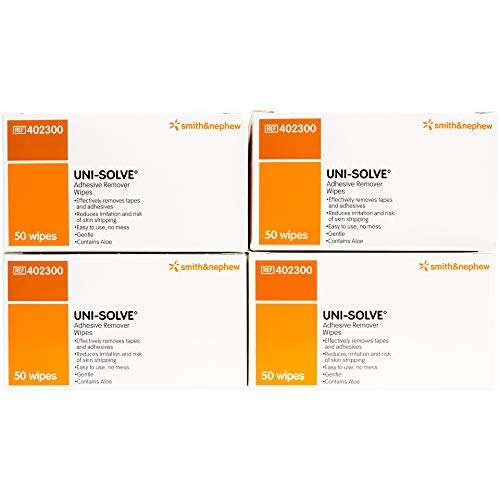 Uni-Solve Adhesive Remover Wipes by Smith and Nephew, Model No : 402300 - 50 ea
Quick Overview
Uni-Solve Adhesive Remover Wipes by Smith and Nephew, Model No : 402300 - 50 ea Adhesive Remover is formulated to reduce adhesive trauma to the skin by thoroughly dissolving dressing...

Note: Check shipping rates on checkout page
Uni-Solve Adhesive Remover Wipes by Smith and Nephew, Model No : 402300 - 50 ea
Adhesive Remover is formulated to reduce adhesive trauma to the skin by thoroughly dissolving dressing tape and appliance adhesives. It is ideal for removing acrylic-based, rubber-based, and hydrocolloid-based residues from the skin. Aloe soothes and moisturizes skin without greasiness.
Directions :
Apply Uni-Solve Adhesive Remover with cotton applicator, or gauze to edge of tape or appliance. 2. Squeeze gently so fluid flows between skin and adhesive.
Warning :

Please read all label information carefully on delivery and prior to use.


Image may vary from actual product due to Continuous manufacturer Product updates. Information we provide is for your reference only.