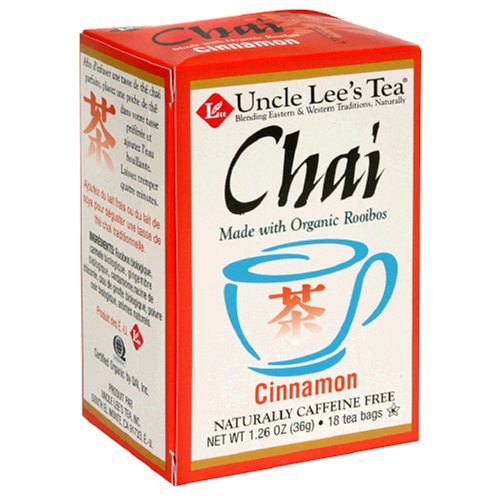 Uncle Lee's Tea - 100% Organic Chai Tea Caffeine Free Cinnamon - 18 Tea Bags
Quick Overview
Uncle Lee's Tea - 100% Organic Chai Tea Caffeine Free Cinnamon - 18 Tea Bags Traditionally, Chai is a brewed beverage combining flavor rich spices and black tea with milk...

Note: Check shipping rates on checkout page
Uncle Lee's Tea - 100% Organic Chai Tea Caffeine Free Cinnamon - 18 Tea Bags

Traditionally, Chai is a brewed beverage combining flavor rich spices and black tea with milk and a sweetener. Our Cinnamon Chai (pronounced "cheye") is a unique blend of traditional East Indian spices and "rooibos", an herb that tastes like black tea, has anti-oxidant properties similar to green tea and is naturally caffeine free! Our Chai is naturally sweet so you can avoid the extra calories of sugar or honey. Made with 100% organic ingredients.
Organic Rooibos, Organic ginger Root, Organic Cinnamon, Organic Cardamon, Organic Chicory, Organic Clove, Organic Black Pepper and Organic Stevia Leaves.
Direction :
To brew a perfect cup of chai tea, place one teabag into your favorite cup and pour in boiling water. Steep for four minutes. 
Warning :
Please read all label information carefully on delivery and prior to use.
Image may vary from actual product due to Continuous manufacturer Product updates. Information we provide is for your reference only.