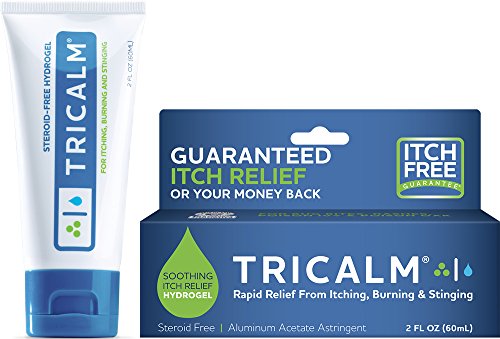 TriCalm Steroid-free anti-itch Hydrogel - 2 oz
Quick Overview
TriCalm Steroid-free anti-itch Hydrogel - 2 ozSafe and effective itch relief. Tricalm gives powerful relief for itching, burning, and stinging caused by rashes, hives, allergic reaction, bug bites, poison ivy, and...

Note: Check shipping rates on checkout page
TriCalm Steroid-free anti-itch Hydrogel - 2 oz

Safe and effective itch relief. Tricalm gives powerful relief for itching, burning, and stinging caused by rashes, hives, allergic reaction, bug bites, poison ivy, and other skin ailments. Relieves minor skin irritations due to poison ivy, poison oak, poison sumac, insect bites, athletes foot, allergic itches, and irritations.TriCalms steroid-free gel penetrates the skin and is clinically proven to alleviate discomfort associated with minor skin irritations.
Active Ingredient :
Purpose  Astringent 
Inactive Ingredients :
Butylene glycol, caprylyl glycol, dehydroacetic acid, ethylhexyl glycerin, glycine, hexylene glycol, malic acid, phenoxyethanol, purified water, strontium chloride nexahydrate, (Cosmederm-7), xanthan gum. 
Please read all label information carefully on delivery and prior to use.


Image may vary from actual product due to Continuous manufacturer Product updates. Information we provide is for your reference only.