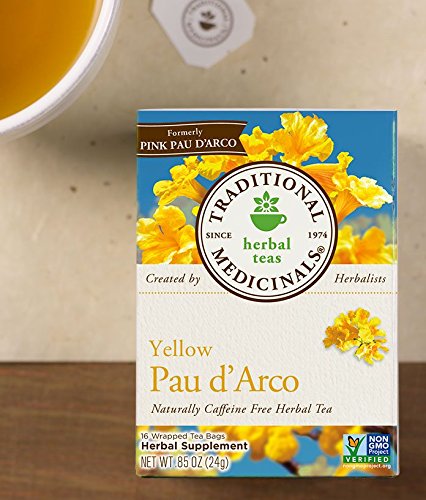 Traditional Medicinals - Pau d'Arco Tea - 16 Tea Bags
Quick Overview
Traditional Medicinals - Pau d'Arco Tea - 16 Tea Bags Traditional Medicinals Pau d'Arco Tea is gorgeous, strong and enigmatic. Traditional Medicinals Pau d'Arco Tea has an earthy taste—woody, tannic...

Note: Check shipping rates on checkout page
Traditional Medicinals - Pau d'Arco Tea - 16 Tea Bags

Traditional Medicinals Pau d'Arco Tea is gorgeous, strong and enigmatic. Traditional Medicinals Pau d'Arco Tea has an earthy taste—woody, tannic and slightly bitter. Pau d'Arco Tea is used historically by the indigenous peoples of South America and modern day herbalists. Pau d'Arco is the inner bark of a South American tree. People love this amazingly beautiful, flowering tree, also known as "Pink Ipe" or "Pink Lapacho," due to its stunning pinkish, purple trumpet-like flower. Pau d'Arco has been used by traditional healers in Brazil, Argentina, Peru and other South American countries for centuries. Modern researchers have largely focused on isolated constituents of Pau d'Arco, particularly its naphthoquinones including lapachol and anthraquinones including tabebuin. Only more recently has this cherished herb made its way into the herbal traditions of the West. People believe that Pau d'Arco's benefits are due to the combined action of all of the plant's naturally occurring constituents, so using it in its whole form infused as a hot tea is superior to the actions of isolated plant chemicals.
Direction :
Cover cup & steep for 10-15 minutes. Squeeze tea bag to ensure maximum goodness in your cup. Enjoy 1-4 cups per day. For a more concentrated brew, simmer 4-5 tea bags in 1 quart of water for 15 minutes. For Adults Only! 

Warning :
Consult a health care practitioner, naturopath or herbalist prior to use to determine if this tea is right for you. Also consult your healthcare practitioner prior to use if you are pregnant or breastfeeding or if you are taking anticoagulant medications.

Image may vary from actual product due to Continuous manufacturer Product updates. Information we provide is for your reference only.