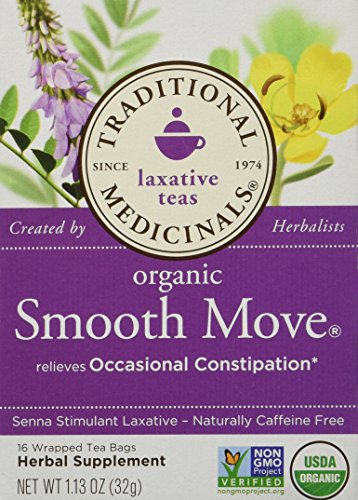 Traditional Medicinals - Organic Smooth Move Tea - Herbal Stimulant Laxative - 16 Tea Bags
Quick Overview
Traditional Medicinals - Organic Smooth Move Tea - Herbal Stimulant Laxative - 16 Tea Bags Traditional Medicinals Smooth Move Tea Herbal Stimulant Laxativeprovides a gentle relief from occasional constipation and...

Note: Check shipping rates on checkout page
Traditional Medicinals - Organic Smooth Move Tea - Herbal Stimulant Laxative - 16 Tea Bags

Traditional Medicinals Smooth Move Tea Herbal Stimulant Laxativeprovides a gentle relief from occasional constipation and generally produces a bowel movement within 6-12 hours. Just about everyone experiences constipation occasionally—uncomfortable, embarrassing and a real damper on life. Used for thousands of years to get your "movement" moving again, senna works by gently stimulating your intestines and aiding your body's natural elimination process. A single serving of Traditional Medicinals Smooth Move Tea Herbal Stimulant Laxative provides an effective dose of sennosides from senna leaf, which have proven stimulant laxative action and are generally recognized as safe and effective by the U.S. FDA. Traditional Medicinals Smooth Move Tea Herbal Stimulant Laxativealso combines fennel, coriander and ginger to ease discomfort and reduce the potential for unpleasant feelings like cramping. Smooth Move Tea Herbal Stimulant Laxativeis sweet and slightly bitter, with citrus-orange and spice notes and is best taken at bedtime. Sip and sleep easy knowing you'll be right as rain in the morning.
Direction :
Adults and children 12 years and older: drink 1 cup preferably at bedtime.

Warning :
Do not use laxative products when abdominal pain, nausea, or vomiting are present unless directed by a doctor. If you have noticed a sudden change in bowel habits that persists over a period of 2 weeks, consult a doctor before using a laxative. Laxative products should not be used for a period longer than 1 week unless directed by a doctor. Rectal bleeding or failure to have a bowel movement after use of a laxative may indicate a serious condition. Discontinue use and consult your doctor. Senna may produce abdominal pain, spasm or passage of liquid stools.

Image may vary from actual product due to Continuous manufacturer Product updates. Information we provide is for your reference only.