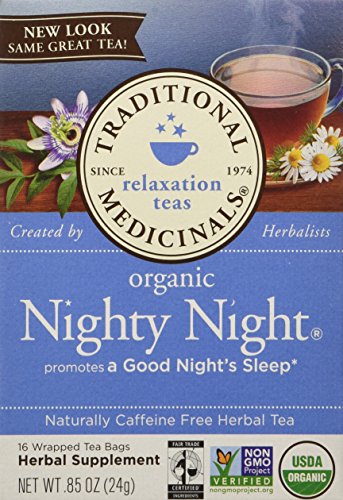 Traditional Medicinals - Organic Nighty Night Tea - 16 Tea Bags
Quick Overview
Traditional Medicinals - Organic Nighty Night Tea - 16 Tea Bags Traditional Medicinals Organic Nighty Night Tea is for the relief of occasional sleeplessness. Traditional Medicinals Organic Nighty Night Tea addresses...

Note: Check shipping rates on checkout page
Traditional Medicinals - Organic Nighty Night Tea - 16 Tea Bags

Traditional Medicinals Organic Nighty Night Tea is for the relief of occasional sleeplessness. Traditional Medicinals Organic Nighty Night Tea addresses tenseness, irritability, nervous restlessness, and nervous stomach thus promoting nighttime relaxation. According to the World Health Organization, the use of passionflower, hops and chamomile for restlessness, mild sleeping difficulties, and nervous tension is supported by clinical data. Herbal traditions often combine chamomile, hops and passionflower. Traditional Medicinals Organic Nighty Night Tea is an aromatic balance of slightly minty, mildly bitter and sweet, with notes of spice and citrus.
Passionflower Herb (360mg), Chamomilla Recutita (Chamomile) Extract (Organic) (255mg), Linden (Tilia Cordata) Flower (135mg), Catnip Herb (Organic 45mg), Hop Strobile (Organic 30mg), Proprietary Blend (675mg), Spearmint (Mentha Viridis) Leaf (Organic), Lemon Verbena Leaf (Organic), Lemon (Citrus Medica Limonium) Oil, Lemongrass (Cymbopogon Schoenanthus) Leaf (West Indian).
Direction :
Pour 8 oz freshly boiled water over 1 tea bag.Cover cup & steep for 10-15 minutes.Squeeze tea bag to ensure maximum goodness in your cup.Enjoy 2-3 cups late in the day, including at least 1 cup 30 minutes before bed. For adults only!

Warning :
Consult your healthcare practitioner: if sleeplessness persists continuously for more than two weeks; if you are taking medication with sedative properties; if you have depression and/or related diseases; or if you are pregnant or breastfeeding. Consumption with alcohol is not recommended. Some people may experience drowsiness. Exercise caution if operating heavy machinery, driving a motor vehicle, or involved in activities requiring mental alertness within 2 hours of consumption. Do not use if you have known allergies of plants of the daisy (Asteraceae) family like chamomile or echinacea. Not recommended for use with children under 12 years of age.

Image may vary from actual product due to Continuous manufacturer Product updates. Information we provide is for your reference only.