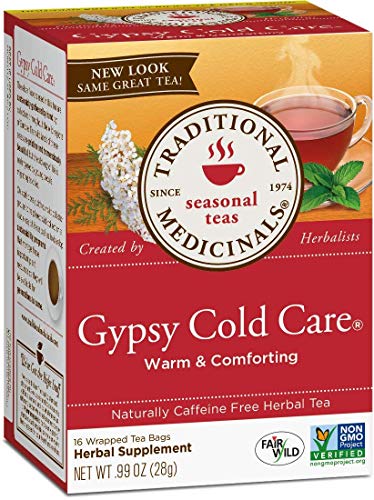 Traditional Medicinals - Gypsy Cold Care Tea - Promotes Respiratory Health - 16 Tea Bags
Quick Overview
Traditional Medicinals - Gypsy Cold Care Tea - Promotes Respiratory Health - 16 Tea Bags Traditional Medicinals Gypsy Cold Care Tea Promotes Respiratory Health is a slightly sweet and spicy...

Note: Check shipping rates on checkout page
Traditional Medicinals - Gypsy Cold Care Tea - Promotes Respiratory Health - 16 Tea Bags

Traditional Medicinals Gypsy Cold Care Tea Promotes Respiratory Health is a slightly sweet and spicy multi-action formula that helps regulate body temperature and encourages normal breathing. Traditional Medicinals Gypsy Cold Care Tea Promotes Respiratory Health is warm and comforting with nurturing herbs that assist the body's natural responses to challenging seasonal conditions. Elder, yarrow and peppermint—the foundation of Traditional Medicinals Gypsy Cold Care Tea—are a classic European blend of herbs used for centuries. People love the aroma of the pungent, minty steam that rises off Gypsy Cold Care Tea. Sip slowly and let your weary body be comforted by its warming properties. Fragrant and soothing, it's one of those teas that just seems to say, "don't worry, everything's going to be all right."
Elder Flower (Organic) (350mg), Yarrow (Achillea Millefolium) Flower (Organic 350mg), Peppermint Leaf (Organic) (350mg), Hyssop Herb (Organic 140mg), Proprietary Blend (560mg), Rosa Canina (Rose Hip), Cinnamon (Cinnamomum Cassia) Bark, Ginger Rhizome (Organic), Safflower (Carthamus Tinctorius) Petal (organic), Clove Bud (Organic), Licorice Root Dry Aqueous Extract (Organic).
Direction :
Pour 8 oz. freshly boiled water over 1 tea bag.Cover cup & steep for 10-15 minutes.Squeeze tea bag to ensure maximum goodness in your cup.Enjoy 1-2 cups initially, then 1 cup every three hours. Especially good with honey! Not to exceed 6 cups in a 24 hour period.

Warning :
Consult your healthcare practitioner prior to use: If you have gallstones or bile duct obstruction, hiatal hernia or acid reflux; or if you are pregnant or breastfeeding. Do not use this product if you are allergic to plants within the daisy (Asteraceae) family, like yarrow, safflower, chamomile or echinacea. Not recommended for use with children under 12 years of age.

Image may vary from actual product due to Continuous manufacturer Product updates. Information we provide is for your reference only.