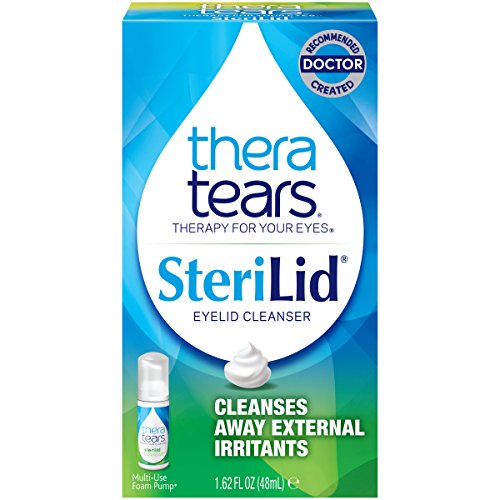 Thera Tears Sterilid Eyelid Cleanser - 48 ml
Quick Overview
Thera Tears Sterilid Eyelid Cleanser - 48 ml Thera Tears Sterilid Eyelid CleanserDaily lid hygiene is important for those with blepharitis and dry eye, as well as those preparing for...

Note: Check shipping rates on checkout page
Thera Tears Sterilid Eyelid Cleanser - 48 ml
Thera Tears Sterilid Eyelid CleanserDaily lid hygiene is important for those with blepharitis and dry eye, as well as those preparing for eye surgery.Finally, a convenient and effective way to cleanse the eyelids and eyelashes.Lid hygiene to maintain eyelid health has never been easier.And steriLid not only cleanses the eyelids and eyelashes, but also conditions the delicate skin around your eyes with its hypoallergenic, pH-matched-to-skin formula.Features:Cleanses the eyelids and eyelashes.Convenient and effective.Science based lid hygiene.Easy to use.Doctor recommended.
Water, PEG 80, Sorbitan Laurate, Sodium Trideceth Sulfate, Cocamidopropyl Betaine, Sodium Lauroamphoacetate, PEG 150 Distearate, Sodium Laureth 13 Carboxylate, Linalool Oil, Hepes Acetate, Sodium Perborate Monohydrate, Panthenol, Allantoin (Comfrey Root), Sodium Chloride, Tea Tree (Melaleuca Alternifolia) Oil, Tris EDTA, Boric Acid, Cocamidopropyl PG Dimonium Chloride, Etridronic Acid, Citric Acid (for pH adjustment), Sodium Hydroxide (for pH adjustment).
Direction :
Press the pump and SteriLid Eyelid Cleanser foam is ready to use. No mixing, no dilutions, no cotton tips, no pads.Clean fingertips with SteriLid prior to use, rinse.Pump SteriLid foam on to clean fingertips.Close eyes, and gently massage foam into lids and eyelashes.Avoid touching eyes directly.Leave in place for 60 seconds for maximum effectiveness.Rinse with water.Use twice a day or as directed. External use only. Remove contact lenses prior to use.

Warning :
External Use only. Remove contact lenses prior to use.Not to be used for children under three years of age.Not to be used on peeling or irritated skin.Not to be swallowed.
Image may vary from actual product due to Continuous manufacturer Product updates. Information we provide your reference only