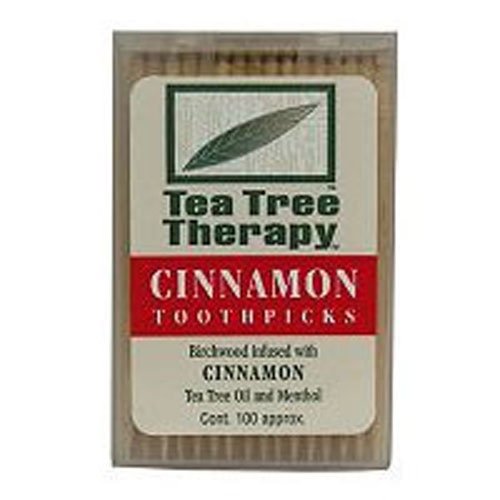 Tea Tree Therapy - Tea Tree Toothpicks Cinnamon - 100 Pick(s)
Quick Overview
Tea Tree Therapy - Tea Tree Toothpicks Cinnamon - 100 Pick(s) Tea Tree Therapy Tea Tree Toothpicks Cinnamon are made from birchwood trees treated with Tea Tree Oil and Menthol. Cinnamon...

Note: Check shipping rates on checkout page
Tea Tree Therapy - Tea Tree Toothpicks Cinnamon - 100 Pick(s)

Tea Tree Therapy Tea Tree Toothpicks Cinnamon are made from birchwood trees treated with Tea Tree Oil and Menthol. Cinnamon (oil of cassia) is added to provide a zesty invigorating flavor. Tea Tree Oil's natural antiseptic properties help freshen breath and kill bacteria that causes plaque and tartar. Their long-lasting flavor can be an aid to those giving up smoking.Freshens breath - Taste great.Stimulates and massages gums.Substitute for smokingSnack substitute.
Birchwood toothpick flavored with Cinnamon, (oil of cassia), Australian Tea Tree Oil, and Menthol.
Direction :

Use as needed.
Warning :
Please read all label information carefully on delivery and prior to use.
Image may vary from actual product due to Continuous manufacturer Product updates. Information we provide is for your reference only.