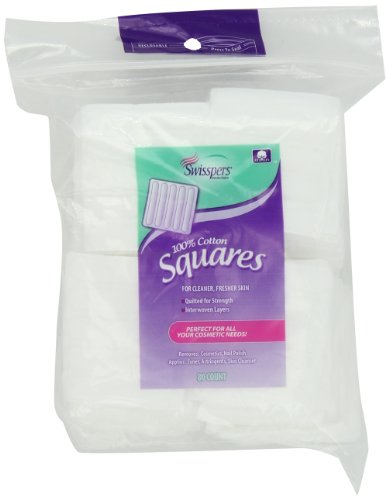 Swisspers Cotton Squares, 80 Count
Quick Overview
Swisspers Cotton Squares, 80 Count.Swisspers 100% cotton squares are perfect fo all your cosmetic needs. Made from 100% pure natural cotton and covered with a durable , yet soft surface....

Note: Check shipping rates on checkout page
Swisspers Cotton Squares, 80 Count.
Swisspers 100% cotton squares are perfect fo all your cosmetic needs. Made from 100% pure natural cotton and covered with a durable , yet soft surface. Dual textured pad fleece surface for nail care, embossed texture great for skin care, quilted for strength, can be used to control shine. Removes foundations, eye make-up and nail polish. 
Please read all label information carefully on delivery and prior to use.
 
Image may vary from actual product due to Continuous manufacturer Product updates. Information we provide is for your reference only.