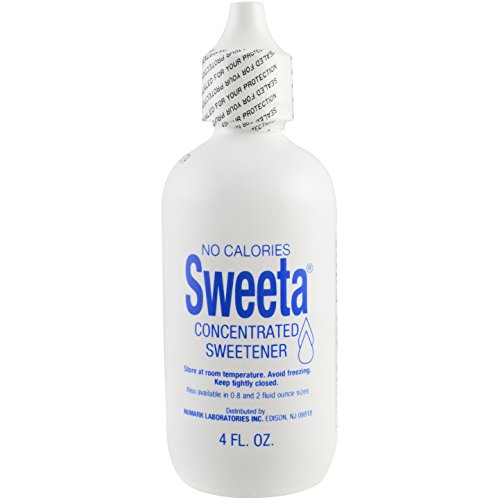 Sweeta Concentrated Sweetener - 112 ml
Quick Overview
Sweeta Concentrated Sweetener - 112 ml.   No calories. Two drops equal the sweetness of one teaspoonful of sugar. Two drops contain 14 milligrams (22.7%) sodium saccharin, a non-nutritive artificial...

Note: Check shipping rates on checkout page
Sweeta Concentrated Sweetener - 112 ml.
No calories. Two drops equal the sweetness of one teaspoonful of sugar. Two drops contain 14 milligrams (22.7%) sodium saccharin, a non-nutritive artificial sweetener which should be used only by persons who must restrict their intake of ordinary sweets; Glycerin and Sorbitol Solution. Also available in .8 and 2 fluid ounce sizes.
Preservatives: Benzoic Acid and Methylparaben.
Directions:
Store at room temperature. Avoid freezing. Keep tightly closed.
Warnings:
Use of this product may be hazardous to your health. This product contains saccharin which has been determined to cause cancer in laboratory animals.

Image may vary from actual product due to Continuous manufacturer Product updates. Information we provide is for your reference only