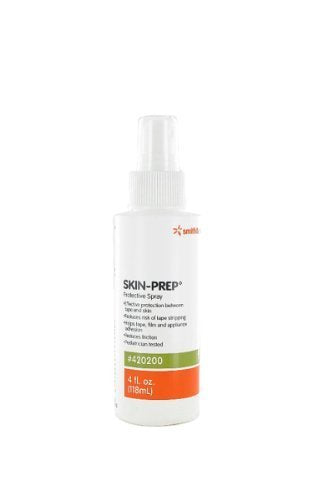 Smith & Nephew SkinPrep Protective Dressing Spray - 4.25 Oz
Quick Overview
Smith & Nephew SkinPrep Protective Dressing Spray - 4.25 OzSkin-Prep is a liquid film-forming dressing that, upon application to intact skin, forms a protective film to help reduce friction during...

Note: Check shipping rates on checkout page
Smith & Nephew SkinPrep Protective Dressing Spray - 4.25 Oz
Skin-Prep is a liquid film-forming dressing that, upon application to intact skin, forms a protective film to help reduce friction during removal of tapes and films. Skin-Prep can also be used to prepare skin attachment sites for drainage tubes, external catheters, surrounding ostomy sites and adhesive dressings. For use in sensitive stoma areas as a skin protectant.  May reduce irritation from contact with body wastes and stoma fluid. Forms a protective film on skin which may reduce exposure to urine and feces. Skin-Prep should only be used on intact skin.
Please read all label information carefully on delivery and prior to use.


Image may vary from actual product due to Continuous manufacturer Product updates. Information we provide is for your reference only.