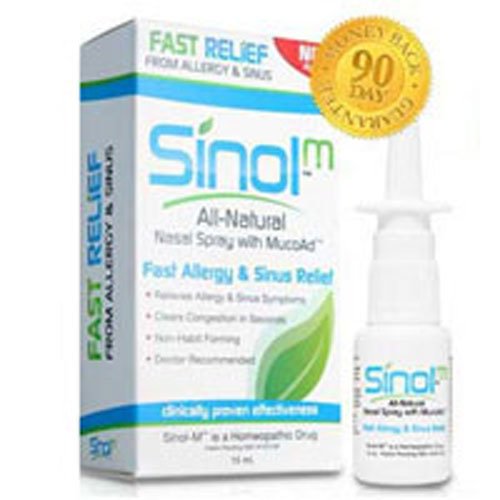 Sinol m Fast Allergy and Sinus Relief All Natural Nasal Spray With MucoAd - 15 ml
Quick Overview
Sinol m Fast Allergy and Sinus Relief All Natural Nasal Spray With MucoAd - 15 ml   Doctor and Pharmacist Recommended. Relives allergy and sinus symptoms. Clears congestion in seconds....

Note: Check shipping rates on checkout page
Sinol m Fast Allergy and Sinus Relief All Natural Nasal Spray With MucoAd - 15 ml
Doctor and Pharmacist Recommended. Relives allergy and sinus symptoms. Clears congestion in seconds. Non Habit Forming. For Indoor/Outdoor Allergies.
Active Ingredients:
Capsicum 4X (capsaicin).

Inactive Ingredients:
Water Purified, Eucalyptus Oil, Aloe Barbadensis Extract, Rosemary Extract, Sea Salt (Sodium Chloride), Vitamin C (Ascorbic Acid).
Directions:
Shake bottle well before each use (very important). Spray once into each nostril and then sniff up into nasal cavity. Use 1-3 times to relieve allergy and sinus symptoms. Relief will occur 2-20 minutes after each use. Cover product after each use.

Warnings:
Sinol is all-natural product and one ingredient comes from the pepper plant. When used for the first time, one may experience a light burn sensation which lasts for 2-5 seconds. This reaction actually relieves the headache, sinus and allergy congestion, and will subside quickly, similarly to the one when eating spicy foods. If pregnant or breast-feeding, ask a health professional before use.
Do not use if you are allergic to any of the ingredients. Do not spray in or around eye area. If contact occurs, rinse thoroughly with cold water. No recommended for children under 14 years of age. If condition worsens or symptoms do not improve, discontinue use and consult a health care practitioner.
Image may vary from actual product due to Continuous manufacturer Product updates. Information we provide your reference only.