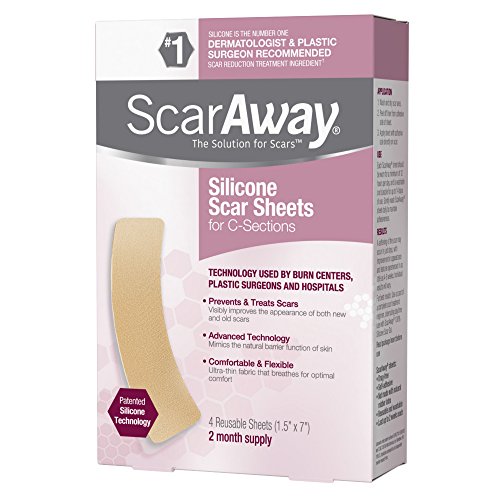 ScarAway C-Sections, Silicone Scar Sheets - 4 ea
Quick Overview
ScarAway C-Sections, Silicone Scar Sheets - 4 ea  7 x 1.5 inches. The solution for scars. No. 1 clinically proven scar treatment now available over the counter. Technology used by...

Note: Check shipping rates on checkout page
ScarAway C-Sections, Silicone Scar Sheets - 4 ea 
7 x 1.5 inches. The solution for scars. No. 1 clinically proven scar treatment now available over the counter. Technology used by hospitals and plastic surgeons. Flattens, softens and fades scars from c-sections and other surgeries. Protects delicate scar area while alleviating itching and tenderness. Comfortable, ultra-thin fabric that breathes for optimal comfort. Patented Silon technology. Latex & drug free. Self-adhesive. Reusable and washable. 2 month supply. The doctors' answer to scars is not available. ScarAway medical grade silicone scar sheets are made with patented advanced Silon technology, the latest innovation used by plastic surgeons and hospitals around the world, and are designed especially for c-section scars.
Research suggests that Silon acts to hydrate scar tissue, which in turn works to soften the scar, reducing its development and causing it to fade away. Comfortable, ultra-thin fabric. Comfortable to Wear: Each ultra-thin ScarAway sheet is made with a patented material that provides a unique combination of breathability, flexibility, washability and adhesiveness, and has a silky, soft fabric backing for optimal comfort and protection, even under clothing. It may also be worn under compression garments.
ScarAway is so comfortable, you may forget you're wearing it. Safe and effective. Clinically proven for C-sections. Restores skin to a more natural texture and color. Minimizes formation of new scars. Perfectly shaped for scars resulting from c-sections - no need to cut or modify - we've made it easy for new moms. Contours smoothly to your body. Removes gently without pulling or tugging on delicate skin. Made in the USA.
Direction :
Application: 1. Wash and dry scar area. 2. Peel off liner from adhesive side of sheet. 3. Apply sheet with adhesive side directly on scar. Use: Each ScarAway sheet should be worn for a minimum of 12 hours per day, and is washable and durable for 14 days of use. Gently wash ScarAway sheet daily to maintain adhesiveness. Results: A softening of the scar may occur in just a few days, with significant improvement in appearance and texture in as little as 4-8 weeks. Individual results will vary. For best results, use ScarAway for 8-12 weeks. Each sheet of ScarAway for C-Sections lasts up to 2 weeks. One box of ScarAway provides a 2 month supply. Store at 59-86 degrees F (15-30 degrees C). Keep away from excessive heat.
Warning :
This product is not sterile. If a rash or allergic reaction occurs, discontinue use and consult your physician. Keep out of reach of children under age 3 and pets, as sheets may present a choking hazard. For external use only. Do not use on open wounds.
Image may vary from actual product due to Continuous manufacturer Product updates. Information we provide is for your reference only