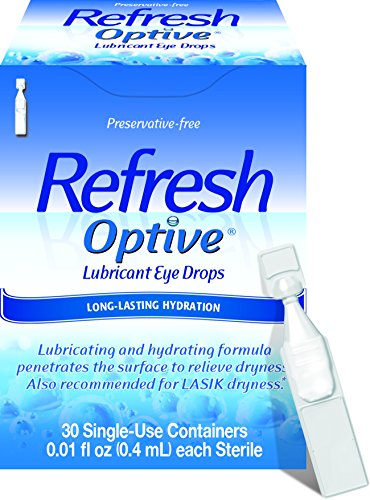 Refresh Optive Sensitive Preservative Free Lubricant Eye Drops, Single Use - 30 ea
Quick Overview
Refresh Optive Sensitive Preservative Free Lubricant Eye Drops, Single Use - 30 ea   Optive Lubricant Eye Drops, Sensitive Preservative Free, Single UseFor the temporary relief of burning, irritation, and...

Note: Check shipping rates on checkout page
Refresh Optive Sensitive Preservative Free Lubricant Eye Drops, Single Use - 30 ea
Optive Lubricant Eye Drops, Sensitive Preservative Free, Single UseFor the temporary relief of burning, irritation, and discomfort due to dryness of the eye or exposure to wind or sun. May be used as a Protectant against further irritation. Advanced Dual Action Formula That Lubricates Dry Eyes. Optive Lubricant Eye Drops advances dry eye relief by providing a Dual-action formula that moisturizes the surface of your eye while also hydrating the areas where dry-eye starts, giving your eyes long-lasting moisturizing protection. 

Please read all label information carefully on delivery and prior to use.


Image may vary from actual product due to Continuous manufacturer  Product updates. Information we provide your reference only.