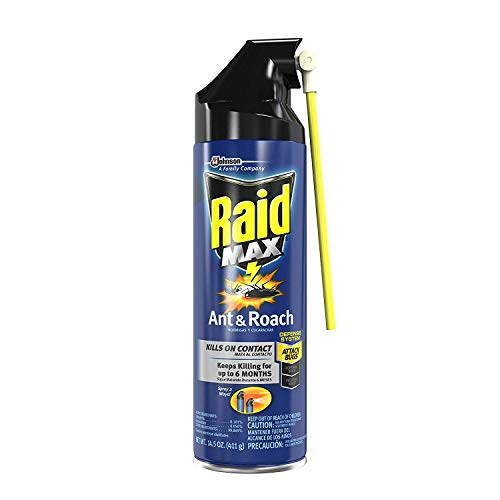 Raid Max roach insect killer aerosol spray on bugs - 14.5 oz
Quick Overview
Raid Max roach insect killer aerosol spray on bugs - 14.5 oz ( 411 gm )   Raid Max roach insect killer aerosol spray kills bugs upto 6 monthsThis kills...

Note: Check shipping rates on checkout page
Raid Max roach insect killer aerosol spray on bugs - 14.5 oz ( 411 gm )
Raid Max roach insect killer aerosol spray kills bugs upto 6 monthsThis kills bugs for up to 6 months. Spray around baseboards, into cracks and crevices, under sinks, in cabinets and refrigerators, on damp areas, and other places where roaches may hide. If you see a bug, spray Raid Max roach killer directly on the bug for an instant kill.
Imiprothrin (0.101%), Deltamethrin (0.050%), (99.849%).
Directions:
Hake well before each use. Hold container upright. Do not spray up into air. Apply to surfaces only.Point spray opening toward surface to be sprayed and press button firmly. Hold about 12 inches from surface being sprayed.Spray until surfaces are wet. Avoid excessive wetting of asphalt, tile, rubber, and plastic materials.Spray until wet in cracks around baseboards and other hiding places. When bugs are driven out, spray directly.For silverfish, crickets, and spiders, spray areas infested by these pests.For ants, apply to ant trails and around doors, windows, and wherever ants enter the house.To maintain control on plywood surfaces, re-treat every four weeks. On all other surfaces, re-treat every six months.
Warnings:
Causes moderate eye irritation. Avoid contact with eyes or clothing. Wash thoroughly with soap and water after handling. Do not apply to humans, pets, or plants, or contaminate feed, foodstuffs, dishes, or utensils. Remove pets and birds and cover aquariums. Cover or remove exposed food, dishes, utensils, and food-handling equipment Store away from heat or open flames, in an area inaccessible to children. Do not puncture or incinerate container. Exposure to temperatures above 130 degree F may cause bursting. If in eyes, hold eye open and rinse slowly and gently with water for 15-20 minutes.
Image may vary from actual product due to Continuous manufacturer Product updates. Information we provide is for your reference only