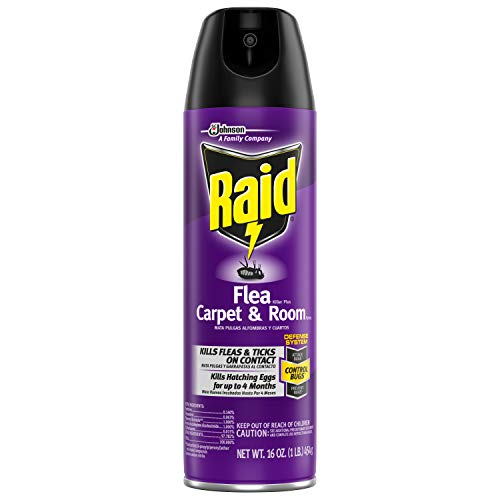 Raid Flea Killer - 454 gm
Quick Overview
Kills fleas in your home and on your dog! For use on dogs. Kills adult and pre-adult fleas. Kills ticks on contact. Non-staining formula. Clean pleasant scent. Kills on contact...

Note: Check shipping rates on checkout page
Kills fleas in your home and on your dog! For use on dogs. Kills adult and pre-adult fleas. Kills ticks on contact. Non-staining formula. Clean pleasant scent. Kills on contact - controls flea and tick infestations. Contains no CFCs or other ozone depleting substances. No CFCs. Federal regulations prohibit CFC propellants in aerosols.
Active Ingredients:
Pyrethrins (0.140%); Piperonyl Butoxide, Technical (Equivalent to Min (0.80%) of (Butylcarbityl) (6-Propylpiperonyl) Ether and 0.20% Related Compounds) (1.000%); Tetramethrin (0.063%); N-Octyl Bicycloheptene Dicarboximide (0.980%). Inert Ingredients: (97.817%).
Directions:
Read entire label before each use. It is a violation of Federal Law to use this product in a manner inconsistent with its labeling. Shake before use. Hold container upright. Point valve away from face and press button.
Fleas and ticks on surfaces: Remove soiled pet bedding and clean thoroughly or destroy. Spray sleeping quarters of pets, around baseboards, windows, door frames, wall cracks and floors. Spray rugs and carpets where flea infestations are bad. Repeat as necessary. Put fresh bedding in pet quarters after spray has dried. For best results pets should be treated before allowing them to return to treated area. If used on light or delicate upholstery fabrics, test in an inconspicuous place prior to use. Use Raid Flea Killer in conjunction with Raid Roach & Flea Fogger for particularly heavy flea infestations and for a complete flea and tick protection program.
Fleas and Ticks on Pets: Read entire label before each use. Use only on dogs. Consult a veterinarian before using this product on debilitated, aged, pregnant, or nursing animals. Certain medications can interact with pesticides. Consult a veterinarian before using on medicated animals. Do not use on dogs under 12 weeks. To control fleas and ticks on dogs, hold can upright about 10-12 inches from pet. Spray to lightly dampen the animal's coat up to the head. For long-haired pets ruffle the coat and spray against the lay of the hair, spraying directly behind the hand so that the spray reaches the skin. Rub into animal's coat to assure even coverage. Use fingers to rub product around eyes, mouth and ears. Do not spray head, genital-anal area or open wounds. Do not over apply. Sensitivities may occur after using any pesticide product for pets. If signs of sensitivity occur bathe your pet with mild soap and rinse with large amounts of water. If signs continue, consult a veterinarian immediately. For best results in controlling tick infestations, spray ticks directly.
Roaches, Silverfish, Crickets: Spray hiding places such as baseboards and pipes, behind bookcases, cabinets and other storage areas hitting as many insects as possible.
Storage: Store in area inaccessible to children.
Disposal: Do not puncture or incinerate!
Warnings:
 
Keep out of reach of children. Precautionary Statements: Hazard to humans and domestic animals. Harmful if absorbed through the skin. Keep out of reach of children. Avoid contact with skin, eyes, and clothing. Do not remain in enclosed areas after use. Wash hands thoroughly with soap and water after handling after treating pets. Ventilate enclosed areas before returning.
Avoid contamination of food and foodstuffs. Cover and turn off fish aquariums. When spraying rooms, rugs and carpets, remove plants, pets and birds.
First Aid: If on Skin or Clothing: Take off contaminated clothing. Rinse skin immediately with plenty of water for 15-20 minutes.
Call a poison control center or doctor for treatment advice. Have the product container or label with your when calling a poison control center, or doctor or going for treatment.
Physical or Chemical Hazards: Contents under pressure. Do not use or store near heat or open flame. Do not puncture or incinerate container. Exposure to temperatures above 130 degrees F may cause bursting.
Image may vary from actual product due to Continuous manufacturer Product updates. Information we provide is for your reference only