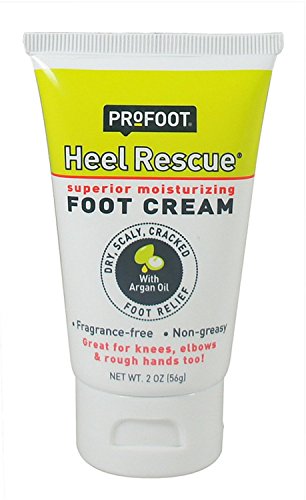 Profoot Heel Rescue Moisturizing Foot Cream - 56 gm
Quick Overview
Profoot Heel Rescue Moisturizing Foot Cream - 56 gm Heel Rescue Foot Cream is a thick, luxurious, yet non-greasy formula for Dry, Scaly, Cracked Foot Relief. This intensive treatment is...

Note: Check shipping rates on checkout page
Profoot Heel Rescue Moisturizing Foot Cream - 56 gm
Heel Rescue Foot Cream is a thick, luxurious, yet non-greasy formula for Dry, Scaly, Cracked Foot Relief. This intensive treatment is specifically designed to penetrate, moisturize, and repair even the toughest cracked and calloused feet. Unlike other foot creams, ProFoots formula is non-greasy and quickly leaves feet feeling soft, silky-smooth, and revitalized. Not too greasy, Not too tacky and Not too perfumey. Dont be fooled by this luxuriously rich formulas silky-smooth finish. It contains serious moisturizers and emollients to help repair your cracked, calloused, and dry feet. 
Water, Stearic Acid, Mineral Oil, Cetyl Alcohol, Triethanolamine, Sodium Bicarbonate, Polyacrylamide, C13-14, Isoparaffin, Laureth 7, Titanium Dioxide, Squalane, Ubiquinone (Coenzyme Q10), Polysorbate 20, Ascorbic Acid Polypeptide, Silk Amino Acids, Sodium PCA, Trisodium EDTA, Imidazolidinyl Urea, Methylparaben, Propylparaben, Sodium Benzoate. 
Warning :
For persistent skin problems consult a physician. If redness or irritation develops, discontinue use. Keep out of reach of children.
Image may vary from actual product due to Continuous manufacturer Product updates. Information we provide your reference only