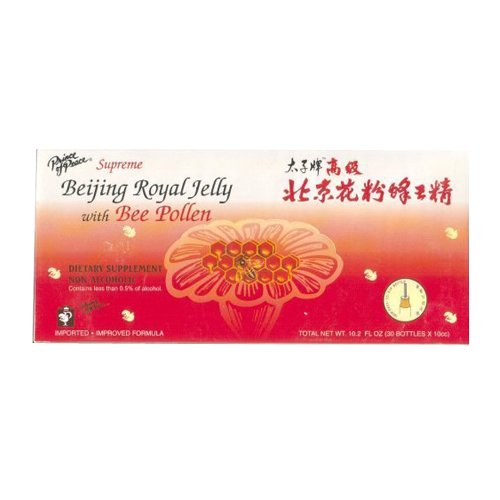 Prince of Peace - Supreme Beijing Prince Royal Jelly with Bee Pollen - 30 Bottle
Quick Overview
Prince of Peace - Supreme Beijing Prince Royal Jelly with Bee Pollen - 30 Bottle Prince of Peace Royal Jelly With Bee Pollen is naturally dense in vitamins, minerals, enzymes,...

Note: Check shipping rates on checkout page
Prince of Peace - Supreme Beijing Prince Royal Jelly with Bee Pollen - 30 Bottle
Prince of Peace Royal Jelly With Bee Pollen is naturally dense in vitamins, minerals, enzymes, amino acids, essential fatty acids, acetylcholine, lecithin, collagen, and gamma globulin which give support for immune function. Prince of Peace Supreme Beijing Royal Jelly with Bee Pollen is an oral liquid. Dietary supplement, non-alcoholic. Royal Jelly is the main source of food for the queen bee which has a life span of 30-40 times longer than the worker bees. Bee Pollen is another natural substance discovered in recent years. It contains no less than 22 amino acids, 27 minerals, biotin, natural enzymes, coenzymes and hormones. We at Prince of Peace traveled to China to bring you this top quality product which is a blend of Fresh Beijing Royal Jelly and Bee Pollen. We guarantee that only the highest quality ingredients are used. It is made with the traditional low heat process to preserve the natural precious components.
Purified Water, Honey and Alcohol (Contains less than 0.5%).
Direction :
As a herbal supplement, 1 or 2 bottles may be taken daily. Residue does not affect the quality of this product. Shake before using, insert the straw completely to drink contents.
Warning :
Bee products may cause allergic reaction in some people.
Image may vary from actual product due to Continuous manufacturer Product updates. Information we provide is for your reference only.