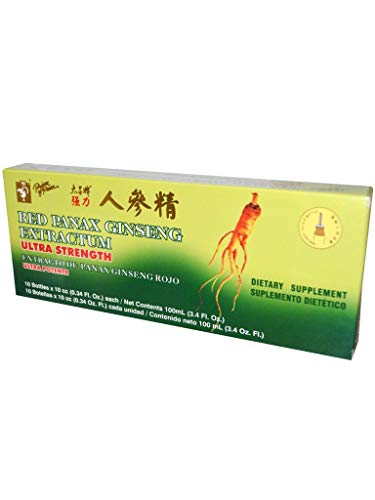 Prince of Peace - Red Panax Ginseng Extractum Ultra Strength - 10 Vial
Quick Overview
Prince of Peace - Red Panax Ginseng Extractum Ultra Strength - 10 Vial Prince of Peace Red Panax Ginseng Extractum is a dietary supplement  Red Panax Ginseng Roots. Red Pana...

Note: Check shipping rates on checkout page
Prince of Peace - Red Panax Ginseng Extractum Ultra Strength - 10 Vial
Prince of Peace Red Panax Ginseng Extractum is a dietary supplement  Red Panax Ginseng Roots. Red Pana Ginseng Extractum is Ultra Strength, with 2000mg per non-alcoholic vial. Of all the herbs in the world, Chinese Panax Ginseng, the root of Araliaceae, grown on the Changpai Mountain in China, has been regarded by the Asians for over 2,000 years to be the most valuable herb in the world.Prince . They guarantee that only the highest quality ingredients are used. It is made with the traditional low heat process to preserve the natural precious components.
Purified Water, Honey and Alcohol (Contains less than 0.5%).
Direction :
As an herbal supplement, 1-2 bottles may be taken daily. Residue does not affect the quality of this product. Shake well before using. Insert the straw completely to drink contents.
Warning :
Persons who are taking prescription medication and/or who have a health condition, or persons who are pregnant or nursing, should consult a healthcare professional before using this or any other dietary supplements.
Image may vary from actual product due to Continuous manufacturer Product updates. Information we provide is for your reference only.