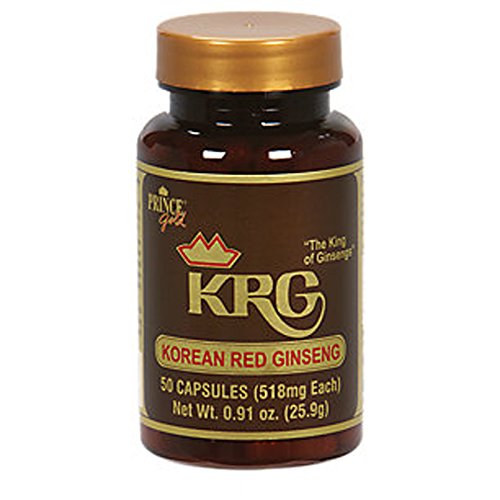 Prince of Peace - Korean Red Ginseng 518 mg. - 50 Capsules
Quick Overview
Prince of Peace - Korean Red Ginseng 518 mg. - 50 Capsules Prince of Peace Korean Red Ginseng capsules are made of 100% pure Korean ginseng powder in preservative-free capsules...

Note: Check shipping rates on checkout page
Prince of Peace - Korean Red Ginseng 518 mg. - 50 Capsules
Prince of Peace Korean Red Ginseng capsules are made of 100% pure Korean ginseng powder in preservative-free capsules that contain no additives, fillers, flavorings or colorings. Each bottle is nitrogen-packed and double safety-sealed for your protection.Throughout the ages, Korea Red Ginseng has been priced as one of the most valuable herbs on earth. Korean Red Ginseng has been consumed by millions of people all over the world. Prince Gold KRG Korean Red Ginseng roots are harvested from their natural environment in nutrient-rich soil in Korea. Each capsule contains 518mg of pure Korean Reg Ginseng powder.
Direction :
Take one to three capsules daily with a glass of water.
Warning :
Double sealed for our protection. Keep out of reach of children. Persons who are taking prescription medication, those who have existing health conditions, and/or pregnant and nursing women should consult a healthcare practitioner before using this or any other dietary supplement.
Image may vary from actual product due to Continuous manufacturer Product updates. Information we provide is for your reference only.