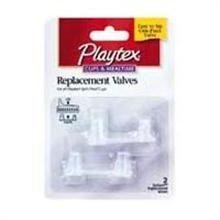 Playtex Replacement Valves - 2 ea
Quick Overview
Playtex Replacement Valves - 2 ea   For all Playtex Spill-Proof cups. SipEase valve eliminates messy spills. BPA free: Bisphenol-A free. Phthalate free. The patented SipEase valve works with all...

Note: Check shipping rates on checkout page
Playtex Replacement Valves - 2 ea
For all Playtex Spill-Proof cups. SipEase valve eliminates messy spills. BPA free: Bisphenol-A free. Phthalate free. The patented SipEase valve works with all Playtex Spill-Proof cups. Eliminates messy spills. Easy to activate - liquid flows easily when child sips. Easy to clean. Valve stores under lid for dishwashing. Made in USA.


Direction :

To Use: Wash valve before first use. After cleaning, pinch valve at stem to activate. Insert valve into the holes on the inside of the lid with arrow towards drinking spout. Screw lid on tightly. Do not use valve with carbonated beverages or pulpy juices. To Clean: Clean as soon as possible after each use. Remove valve from lid and place in valve storage area in lid. Wash lid/valve and cup in top rack of dishwasher or hand wash each part separately. Avoid use of abrasive cleansers.
Warning :

To avoid injury, do not let child walk or run with cup. Do not use with any hot liquids as this may result in burning.


Image may vary from actual product due to Continuous manufacturer Product updates. Information we provide is for your reference only