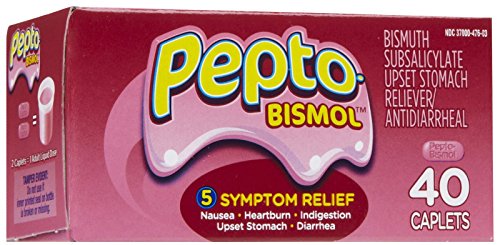 Pepto - Bismol Caplets Easy to Swallow - 40 ea
Quick Overview
Pepto - Bismol Caplets Easy to Swallow - 40 ea   Pepto-Bismol Caplets Relieves: heartburn, indigestion, upset stomach, nausea, diarrhea. Low sodium. Sugar free. 

Note: Check shipping rates on checkout page
Pepto - Bismol Caplets Easy to Swallow - 40 ea
Pepto-Bismol Caplets Relieves: heartburn, indigestion, upset stomach, nausea, diarrhea. Low sodium. Sugar free. 

Active Ingredients: 


per caplet: Bismuth Subsalicylate (262 mg ( 99mg of salicylate)). 

Inactive Ingredients: 


Calcium Carbonate, Magnesium Stearate, Mannitol, Microcrystalline Cellulose, Polysorbate 80, Povidone, Red 27 Aluminum Lake, Silicon Dioxide, Sodium Starch Glycolate. 
Directions:

Swallow with water; do not chew. Adults and children 12 years and over: 2 caplets every 1/2 to 1 hour as needed. Do not exceed 8 doses (16 caplets) in 24 hours. Use until diarrhea stops but not more than 2 days. Children under 12 years: ask a doctor. Drink plenty of clear fluids to help prevent dehydration caused by diarrhea. 

Warnings:

Children and teenagers who have or are recovering from chicken pox or flu should no use this medicine to treat nausea or vomiting. If nausea or vomiting is present, consult a doctor because this could be an early sign of Reye Syndrome, a rare but serious illness. This product contains salicylates.
If taken with aspirin and ringing in the ears occurs, stop using. This product does not contain aspirin, but if you are allergic to aspirin do not use as an adverse reaction may occur. If symptoms persist, or if diarrhea is accompanied by a high fever or continues more than 2 days, ask a doctor. As with any drug, if you are pregnant or nursing a baby, seek the advice of a health professional before using this products. 
Image may vary from actual product due to Continuous manufacturer aProduct updates. Information we provide your reference only.