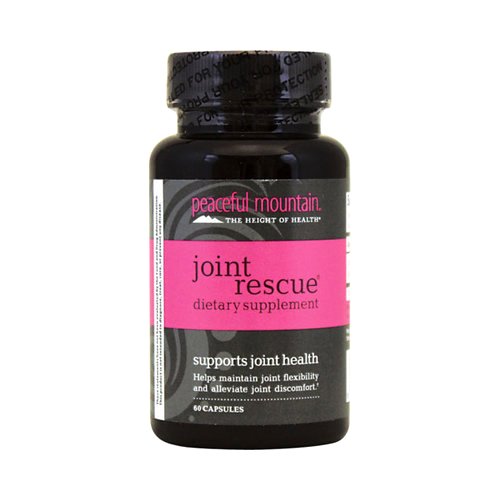 Peaceful Mountain - Joint Rescue Dietary Supplement - 60 Capsules
Quick Overview
Peaceful Mountain - Joint Rescue Dietary Supplement - 60 Capsules Peaceful Mountain Joint Rescue Dietary Supplement supports joint health, flexibility and comfort.  The active ingredient is eggshell membrane which is comprised of...

Note: Check shipping rates on checkout page
Peaceful Mountain - Joint Rescue Dietary Supplement - 60 Capsules
Peaceful Mountain Joint Rescue Dietary Supplement supports joint health, flexibility and comfort.  The active ingredient is eggshell membrane which is comprised of 90% protein in the form of collagen, elastin, HA, chondroitin and glucosamine. Human clinical trials showed improved comfort and range of motion in as few as 14 days. Use in conjunction with Joint Rescue topical gel for fast relief and long lasting results.
Cellulose, magnesium stearate.
Direction :
As a dietary supplement, take one capsule per day with liquid.  Works well with Peaceful Mountain Joint Rescue topical gel.
Warning :
Keep out of reach of children.  Store in a cool, dry place.If you have an allergy to eggs, consult your health care professional prior to use.
Image may vary from actual product due to Continuous manufacturer Product updates. Information we provide is for your reference only.