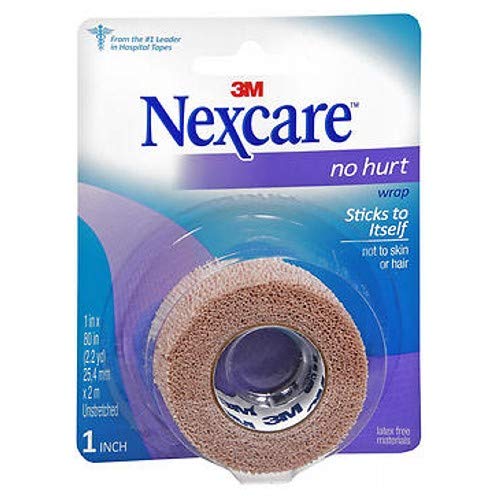 Nexcare first aid no hurt tape, latex free, 1"X5 YD
Quick Overview
Nexcare first aid no hurt tape, latex free, 1"X5 YD   Premium. From the No. 1 leader in hospital tapes. Won't hurt. Sticks to itself, not to skin. Latex free.Nexcare...

Note: Check shipping rates on checkout page
Nexcare first aid no hurt tape, latex free, 1"X5 YD
Premium. From the No. 1 leader in hospital tapes.
Won't hurt.
Sticks to itself, not to skin.
Latex free.Nexcare first aid.
Feels better. 
No Hurt: Easy to apply, sticks to itself, no hurt removal.
Hypoallergenic.
Directions
1. clean wound thoroughly. 2. Cover wound with a sterile Nexcare gauze pad. 3. Holding the end of the tape over the pad, lightly stretch the No Hurt Tape and wrap overlapping layers to hold pad securely in place. 4. Cut tape with scissors. 5. Do not over-stretch the tape or apply too tightly. If you feel tingling or throbbing, unwrap and rewrap tape with less pressure.
Please read all label information carefully on delivery and prior to use.

Image may vary from actual product due to Continuous manufacturer Product updates. Information we provide is for your reference only