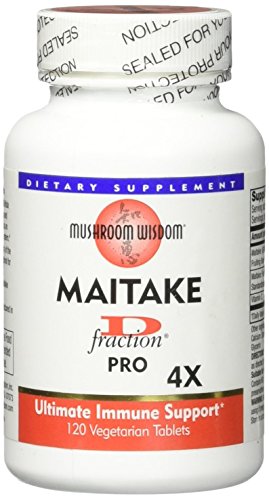 Mushroom Wisdom - Grifron Pro Maitake D Fraction 4X - 120 Tablets
Quick Overview
Maitake Products Grifron-Pro Maitake D-Fraction 4X - 120 Tablets   Mushroom science is very interesting! Maitake Products Grifron Pro Maitake D Fraction is a combination of whole Maitake mushroom powder...

Note: Check shipping rates on checkout page
Maitake Products Grifron-Pro Maitake D-Fraction 4X - 120 Tablets
Mushroom science is very interesting! Maitake Products Grifron Pro Maitake D Fraction is a combination of whole Maitake mushroom powder and standardized "active proteoglucan" in a easy-to-swallow small tablet from with professional strength. Maitake Products Grifron-Pro Maitake D-Fraction is a tablet version of the Grifron-Pro Tincture line, the most purified and concentrated products among Maitake Products' D-Fraction line.

Maitake mushroom (Grifola frondosa) is an edible tasty mushroom prized in Asian countries for centuries. Since the 1980s Maitake mushroom became a subject of scientific studies, and researchers found that it supports healthy immune functions, healthy blood glucose levels and healthy blood pressure in laboratory animals.
Active Ingredients :

Maitake Mushroom Powder, Maitake Mushroom Standardized Extract  PD-fraction (30% active proteoglucan), Vitamin C.

 
Inactive Ingredients :

Microcrystalline cellulose, sucrose fatty acid esters, dicalcium phosphate, silicon dioxide and methylcellulose.
Direction :
As a dietary supplement, take 1-3 tablet(s) twice a day or as directed by your practitioner.
 
Warning :
KEEP OUT OF REACH OF CHILDREN. STORE IN A COOL DRY PLACE.
Image may vary from actual product due to Continuous manufacturer Product updates. Information we provide is for your reference only.