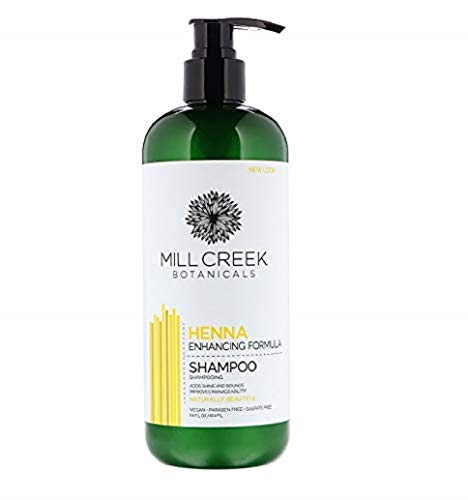 Mill Creek Botanicals - Henna Shampoo Enhancing Formula - 16 oz
Quick Overview
Mill Creek Botanicals - Henna Shampoo Enhancing Formula - 16 oz  Mill Creek Botanicals - Henna Shampoo Enhancing Formula.  Mill Creek now features the highest quality of Organically based and...

Note: Check shipping rates on checkout page
Mill Creek Botanicals - Henna Shampoo Enhancing Formula - 16 oz 
Mill Creek Botanicals - Henna Shampoo Enhancing Formula.  Mill Creek now features the highest quality of Organically based and nutrient-rich blends for beautiful hair. We believe that the truest, most honest beauty comes from trusting the wonders nature reveals and enjoying the benefits of nature's beauty secrets. Look to Mill Creek Botanicals for hair care that's fresh and effective - our wholesome blends make a true difference on your hair. 
Deionized water, henna extract, panthenol, wild cherry bark extract, organic aloe vera gel, chamomile extract, barley extract, eucalyptus oil, hydrolyzed keratin, sodium myreth sulfate, cocamidopropyl betaine, lauramide MEA, disodium EDTA, octyl dimethyl PABA, citric acid, caramel, organic essential oil, potassium sorbate, sodium benzoate, botanical fragrance
Direction :
Wet hair thoroughly. Apply Shampoo to scalp and gently massage into hair to workup a rich lather. Rinse completely. Repeat if necessary. Follow with your favorite Mill Creek Botanicals Conditioner to maximize results.
Warning :
For external use only.
Image may vary from actual product due to Continuous manufacturer Product updates. Information we provide is for your reference only.