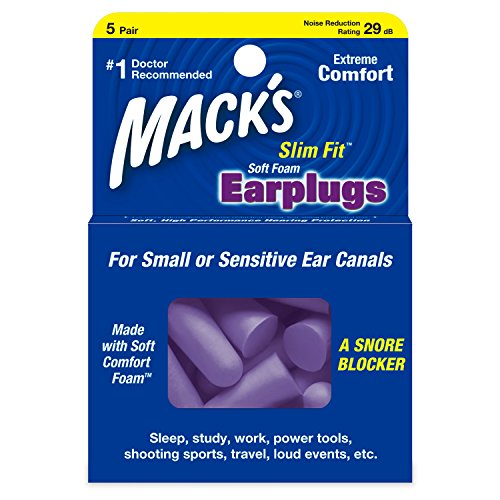 Macks Safe sound slim fit soft foam ear plugs - 5 pairs
Quick Overview
Macks Safe sound slim fit soft foam ear plugs - 5 pairs Macks Slim Fit size earplugs are the same as the original SafeSound, but smaller, perfect for small or...

Note: Check shipping rates on checkout page
Macks Safe sound slim fit soft foam ear plugs - 5 pairs

Macks Slim Fit size earplugs are the same as the original SafeSound, but smaller, perfect for small or sensitive ear canals. Made with super soft foam, these earplugs are perfect for extended use where comfort is paramount. Great for: Sleeping.Studying.Shop noises.Work.Travel.Loud events.Molded with state-of-the-art, super low-pressure foam, slow release comfort foam. Fully skinned and tapered, providing unmatched user comfort and hygiene.User preferred purple color makes them as easy on your eyes as they are on your ear.Noise reduction rating of 29 decibels.


Moldable,nonirritating silicone rubber.
Direction :
Do not insert into ear canal cover only.Make sure hands and ear opening are clean and dry.To loosen and remove, press up behind ear.For best results when flying, wear earplugs entire flight.Do not cut, break apart or elongate earplugs.
Warning :
Use whole earplugs.Do not cut, break apart or elongate.Adult supervision required for children under 12.Keep away from infants and small children when not in use.
Image may vary from actual product due to Continuous manufacturer Product updates. Information we provide is for your reference only.