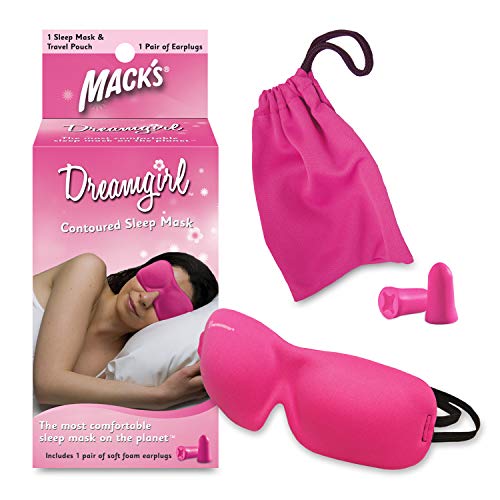 Macks Dreamgirl Contoured Sleep Mask free pair of soft foam earplugs for her Fuchsia - 1 ea
Quick Overview
Macks Dreamgirl Contoured Sleep Mask free pair of soft foam earplugs for her Fuchsia - 1 eaContoured design prevents smudging of eye makeup and allows complete freedom to open and...

Note: Check shipping rates on checkout page
Macks Dreamgirl Contoured Sleep Mask free pair of soft foam earplugs for her Fuchsia - 1 ea


Contoured design prevents smudging of eye makeup and allows complete freedom to open and shut the eyes while keeping the wearer comfortable inside a curtain of darkness. So light and slim, you'll hardly know you're wearing it. Dual, adjustable straps accommodate heads of all sizes. Great for air travel, daytime sleep etc. Free pair of Mack's Dreamgirl Soft Foam Earplugs and convenient travel pouch included.
Direction :
Sleep Mask – 1 Pair Soft Foam Earplugs:Use velcro fastener to tighten straps around head for a comfortable, secure fit. Make sure outside strap uniformly covers inside strap to help prevent uncovered velcro from coming in contact with hairWashing Instructions:Machine wash on gentle cycle or by hand. Air dry.
Soft Foam Earplugs:Directions:With clean hands, roll plug into a tight, crease-free cylinder.With opposite hand, reach over head and pull up and back on outer ear to straighten ear canal.Quickly insert earplug well into ear canal and hold in until it expands for a comfortable, secure fit  Improper fitting will reduce effectiveness and could result in hearing loss or injury.Discard after several uses or as soon as dirt or wax accumulates on earplugs.
Warning :
Remove earplug slowly with twisting motion to gradually break the seal.Rapid removal may damage eardrum.Keep away from infants and small children.These earplugs are non-toxic, but may interfere with breathing if caught in windpipe, which could lead to serious injury or death.
Image may vary from actual product due to Continuous manufacturer Product updates. Information we provide your reference only.