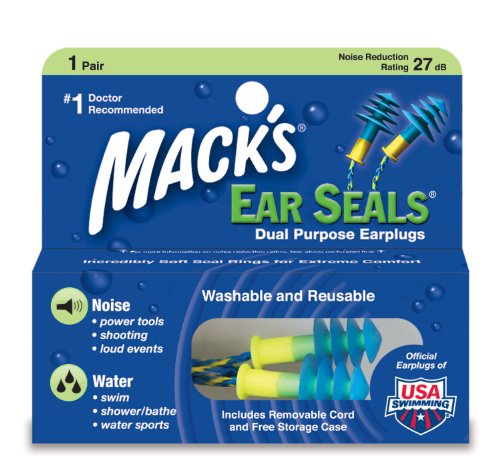 Mack's Dual Purpose Earplugs - 1 Pair
Quick Overview
Mack's Dual Purpose Earplugs - 1 PairMack's Ear Seals Earplugs 1pr Conveniently Hang Plugs Around Your Neck In Environments Where Noise Comes And Goes. Quickly And Easily Remove The Cord...

Note: Check shipping rates on checkout page
Mack's Dual Purpose Earplugs - 1 Pair


Mack's Ear Seals Earplugs 1pr Conveniently Hang Plugs Around Your Neck In Environments Where Noise Comes And Goes. Quickly And Easily Remove The Cord For Water Activities. Seal Out Noise With A Noise Reduction Rating Of 27 Decibels (highest Ever For A Flanged Earplug). Exceptional Ability To Seal Out Water. Incredibly Soft For Extreme Comfort. 
Direction :

1. Reach over head and pull up and back on outer ear to straighten ear canal. 2. With opposite hand, grasp earplug stem and insert by pressing forward in a circular motion to form airtight seal. Remove earplug slowly with twisting motion to gradually break the seal. Due to the excellent seal characteristics, rapid removal may damage eardrum. Do not use cord for removal. Cleaning Instructions: Wash with mild soap and warm water. Dry thoroughly before reinserting into ear. Store in original case. Do not use with solutions, disinfectants or chemicals. This product may be adversely affected by certain chemical substances. Earplugs should be inspected regularly for serviceability. If they become hard, torn or deformed, they should be replaced.


Warning :

Do not push earplug into ear so far that you are unable to easily grasp stem with thumb and forefinger. Remove cord with firm tug for water activities or where there is a risk that it may get caught up during use. Earplugs should be worn at all times in noisy surroundings. Improper fitting or disregard of the above recommendations will reduce the effectiveness and could result in hearing loss or injury. Keep away from infants and small children. This product is non-toxic, but may interfere with breathing if caught in windpipe, or if cord is wrapped around neck, which could lead to serious injury or death. Do not use for scuba diving or at depths over 10 feet. Use only as directed!


Image may vary from actual product due to Continuous manufacturer Product updates. Information we provide is for your reference only.