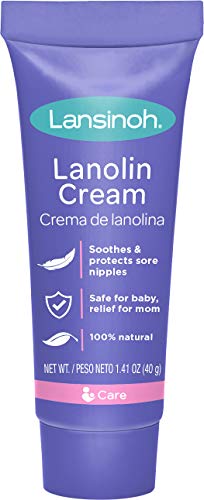 Lansinoh HPA Lanolin - 40 gm
Quick Overview
Lansinoh HPA Lanolin - 40 gm Soothes, heals & protects sore nipples. World's purest lanolin - safe for mom & baby. 100% natural - preservative free. No. 1 treatment for...

Note: Check shipping rates on checkout page
Lansinoh HPA Lanolin - 40 gm
Soothes, heals & protects sore nipples. World's purest lanolin - safe for mom & baby. 100% natural - preservative free. No. 1 treatment for breastfeeding moms. Safe for baby - relief for mom. Don't let the discomfort of sore nipples take away from the job of breastfeeding.Experience soothing relief with the world's purest medical grade lanolin. Lansinoh HPA Lanolin is completely natural and hypoallergenic, so you don't need to remove it prior to breastfeeding. Prenatal Use: Use during pregnancy to ease dryness and promote healthy supple skin. Endorsed in the USA by La Leche League International. Product of the United Kingdom.
Direction :
Soften a pea-sized amount between fingers and apply to the entire nipple area after each feeding or as needed. Apply before showering to protect sensitive nipples.
Warning :
Please read all label information carefully on delivery and prior to use.
Image may vary from actual product due to Continuous manufacturer Product updates. Information we provide is for your reference only.