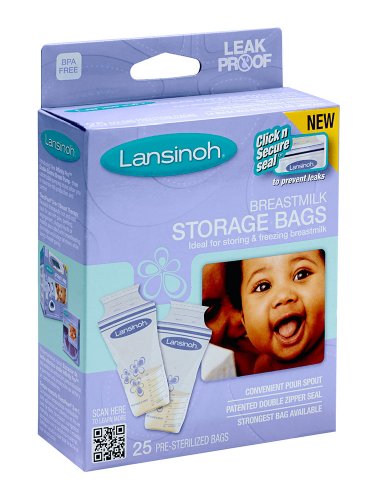 Lansinoh Breast Milk Storage Bags - 25 ea
Quick Overview
Lansinoh Breast Milk Storage Bags - 25 eaIt is safe and convenient choice for storing and freezing breastmilk. These bags are pre-sterilized with a double zipper seal for leakproof storage....

Note: Check shipping rates on checkout page
Lansinoh Breast Milk Storage Bags - 25 ea
It is safe and convenient choice for storing and freezing breastmilk. These bags are pre-sterilized with a double zipper seal for leakproof storage. These space-saving breastmilk storage bags can be stored in the freezer and can also be thawed easily. Each of these bags has a write-on tab on the outside for easy organization and identification. These breastmilk freezer bags come packaged in a tissue pack dispenser for easy access. The BPA-free storage bags have a pour spout for spill-proof transfer of the milk into a bottle. Specially designed with convenient pour spout for transferring milk into a bottle. Bags can be stored flat in the freezer, taking up less space and making them easier to thaw. Tissue pack dispenser for easy access and storage. Write-on tab outside fill area eliminates potential puncture and ink contamination. Double zip closure and tamper-evident safety seal. 
Direction :
Lansinoh Breastmilk Storage Bags Open tissue pack dispenser unit by pulling apart at marked perforation in the center. Open individual storage bag by tearing away safety seal and pulling zipper seal apart. Pour Breastmilk into bag. To preserve freshness, squeeze air out of the bag before sealing. Seal the bag. The zipper rails of red and blue will change to purple, ensuring an air tight seal. Use a ballpoint pen or pencil (never use felt tip marker), to write in the information boxes. 
Warning :
Please read all label information carefully on delivery and prior to use.


Image may vary from actual product due to Continuous manufacturer Product updates. Information we provide is for your reference only.