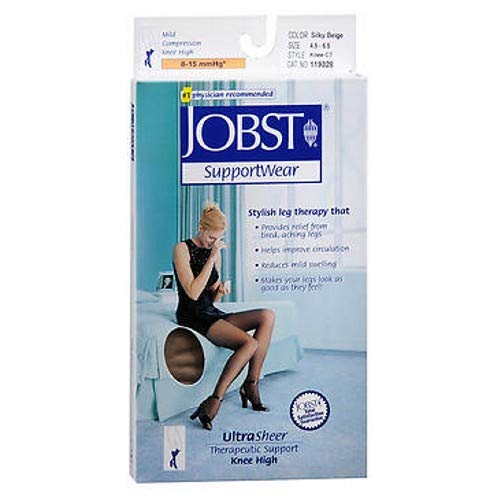 Jobst UltraSheer Knee High Support Stockings 8-15 mmHg, Beige - ExtraSmall
Quick Overview
Jobst UltraSheer Knee High Support Stockings 8-15 mmHg, Beige - ExtraSmallAre designed with gradient compression of 8-15 mmHg to help reduce fatigue, swelling, and aching for those who sit and...

Note: Check shipping rates on checkout page
Jobst UltraSheer Knee High Support Stockings 8-15 mmHg, Beige - ExtraSmall
Are designed with gradient compression of 8-15 mmHg to help reduce fatigue, swelling, and aching for those who sit and stand for extended periods. These fine stockings will provide you with comfortable, long-lasting legwear in a variety of styles. All stockings have a sheer toe allowing you to wear them with with your prettiest sandals. The gradient compression, which is greatest at the ankle and decreases further up the leg, provides light counter pressure to help improve circulation. A natural cotton panel adds to comfort. Easy to wear. Seamless circular knitted for a soft, silky look and comfortable feel. Reciprocated heel and toe for better fit and durability. Nylon and spandex yarns combined with a silicone blend softener for easier donning and comfort. Maternity styles provide a little extra for the mother-to-be. Available in Knee High, Thigh High, Pantyhose and Maternity styles. 
Please read all label information carefully on delivery and prior to use.


Image may vary from actual product due to Continuous manufacturer Product updates. Information we provide is for your reference only.