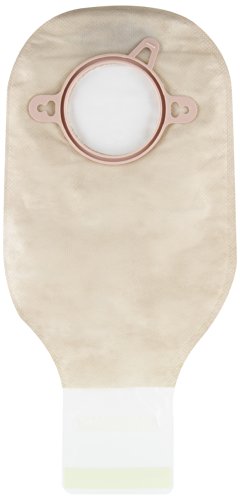 Hollister New Image Lock n Roll Beige Drainable Pouch with Filter, Model No: 18183 - 10/Box, 10 ea
Quick Overview
Hollister New Image Lock n Roll Beige Drainable Pouch with Filter, Model No: 18183 - 10/Box, 10 ea New Image Lock n Roll Drainable Pouch, Beige with Filter has an integrated...

Note: Check shipping rates on checkout page
Hollister New Image Lock n Roll Beige Drainable Pouch with Filter, Model No: 18183 - 10/Box, 10 ea
New Image Lock n Roll Drainable Pouch, Beige with Filter has an integrated closure system provides security you can feel as the plastic fasteners lock into place. Easy to close - simply roll it three times in the same direction, press from the middle out and feel the seal. It is simple for all drainable pouch users including those with vision and dexterity problems. Easy to Empty - lightly pinch the sides of the leak-proof outlet for easy control of content flow. Firm reinforcing strips shut as soon as you stop pinching. Easy to Clean - simple clean the inside of the pouch tail by rinsing with water and wiping clean with a tissue. Color: Green. Length: Standard. Barrier Color: Beige. Beige Drainable Pouch. Biege/Standard. Flange size: 2-1/4 Inches (57mm). Pouch Length: 12 Inches (30cm). Model: 18183.
Please read all label information carefully on delivery and prior to use.


Image may vary from actual product due to Continuous manufacturer Product updates. Information we provide is for your reference only.