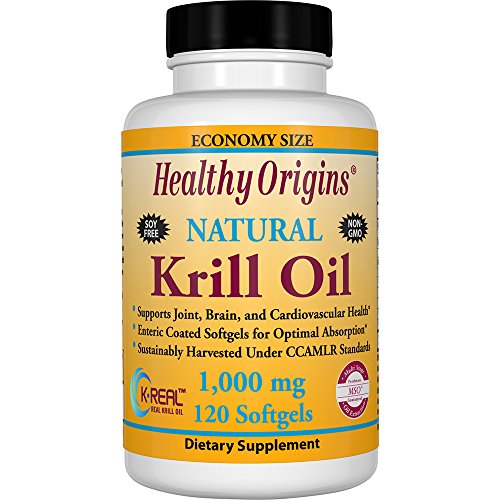 Healthy Origins - Natural Krill Oil 1000 mg. - 120 Softgels
Quick Overview
Healthy Origins - Natural Krill Oil 1000 mg. - 120 Softgels Healthy Origins Natural Krill Oil contains 100% Pure Antarctic Krill. Healthy Origins Krill Oil is extracted from the Euphausia...

Note: Check shipping rates on checkout page
Healthy Origins - Natural Krill Oil 1000 mg. - 120 Softgels
Healthy Origins Natural Krill Oil contains 100% Pure Antarctic Krill. Healthy Origins Krill Oil is extracted from the Euphausia superba species of krill found in the Antarctic waters of the southern ocean. Euphausia superba , krill has been harvested as a food source for humans and animals, but only in more recent times has it been harvested to extract the oils contained within the krill. These oils contain substantial levels of Omega 3's, Phospholipids and Astaxanthin.
Gelatin, Glycerin, Purified Water, Natural Vanilla. Enteric coating consists of Ethyl Cellulose, Sodium Alginate, Ammonium Hydroxide, Medium Chain Triglycerides, Oleic Acid, Stearic Acid.
Direction :
As a dietary supplement for adults, take two (2) softgels daily with your first meal, or as directed by a physician.
Warning :
If you have a seafood allergy, coagulopathy, or are taking anti-coagulant or other medication, please consult a physician before using this product.
Image may vary from actual product due to Continuous manufacturer Product updates. Information we provide is for your reference only.