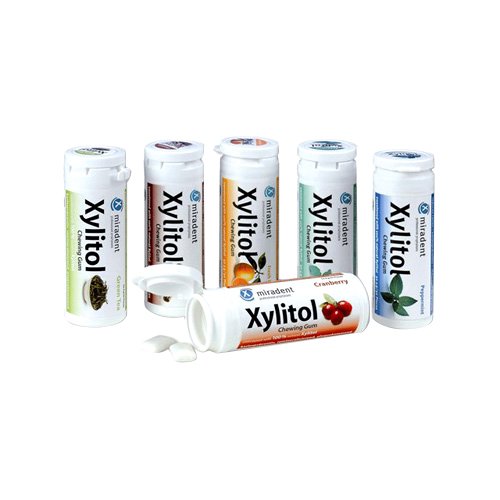 Miradent Hager Pharma Xylitol Chewing Gum, Green Tea - 30 ea
Quick Overview
Miradent Hager Pharma Xylitol Chewing Gum, Green Tea - 30 ea Increases the pH level. No artificial sweetener. Xylitol is beneficial for teeth: It is anti-microbial and increases the pH level...

Note: Check shipping rates on checkout page
Miradent Hager Pharma Xylitol Chewing Gum, Green Tea - 30 ea
Increases the pH level. No artificial sweetener. Xylitol is beneficial for teeth: It is anti-microbial and increases the pH level in the oral cavity which inhibits the growth of bacteria and plaque formation. It stimulates the production of saliva and helps to increase its protective properties, thus promoting the remineralisation of tooth enamel. Xylitol Chewing Gum is exclusively sweetened with Xylitol. It contains neither sugar nor artificial sweetener.
Xylitol, Gum Base, Natural & Artificial Flavors, Glycerin, Gum Arabic, Soy Lecithin and Beeswax.
Please read all label information carefully on delivery and prior to use.


Image may vary from actual product due to Continuous manufacturer Product updates. Information we provide is for your reference only.