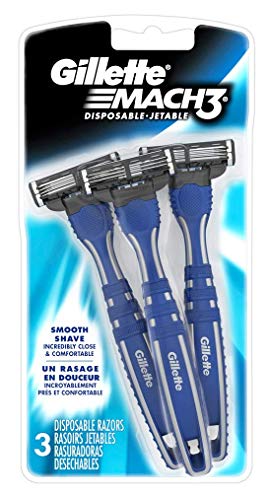 Gillette Mach3 Disposable Jetable Shave Razors, Smooth Shave - 3 ea
Quick Overview
Gillette Mach3 Disposable Jetable Shave Razors, Smooth Shave - 3 ea Gillette Mach3 Disposable Jetable Shave Razors are for incredibly close and comfortable shave and its 3 blades are positioned...

Note: Check shipping rates on checkout page
Gillette Mach3 Disposable Jetable Shave Razors, Smooth Shave - 3 ea
Gillette Mach3 Disposable Jetable Shave Razors are for incredibly close and comfortable shave and its 3 blades are positioned progressively to extend gradually closer. Gillette Mach3 Smooth Shave Rasage Endouceur, for every stroke you take, it takes three and fewer strokes mean less irritation. 
Please read all label information carefully on delivery and prior to use.


Image may vary from actual product due to Continuous manufacturer Product updates. Information we provide your reference only.