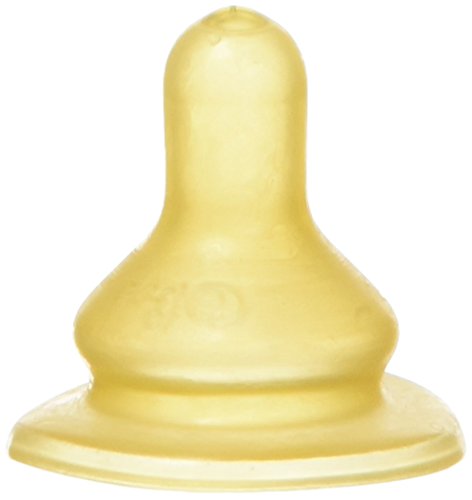 Gerber First Essentials Nipples,Medium Flow, Latex, 4M+ - 6 ea
Quick Overview
Gerber First Essentials Nipples,Medium Flow, Latex, 4M+ - 6 ea    BPA free. Reduces colic with vented nipple design for less air. Three-hole nipple design for smoother flow. Simple solutions...

Note: Check shipping rates on checkout page
Gerber First Essentials Nipples,Medium Flow, Latex, 4M+ - 6 ea 
BPA free. Reduces colic with vented nipple design for less air. Three-hole nipple design for smoother flow. Simple solutions for your baby. 3-hole latex nipples. First Essentials nipples are specially designed for your baby's feeding comfort at every stage of development. Three hole nipple design for smoother flow. Vent holes and ribs ensure smooth flow and help prevent nipple collapse. Fits most standard, reusable bottles. Made in USA.
Directions

Care: Prior to first use, sanitize by boiling in water for 5 minutes. For day to day cleaning, wash with hot water and mild detergent then rinse clean. Dishwasher safe (top rack). For hygiene and safety, replace nipples after about 2 months of use.
Warnings

To prevent possible choking hazard, test strength before each use by pulling the nipple in all directions. Discontinue use if it becomes sticky, enlarged, crocked, torn, or shows other signs of excessive wear. Allowing your child to spend prolonged periods of time drinking liquids, other than water, from a baby bottle may cause early childhood tooth decay.
Image may vary from actual product due to Continuous manufacturer Product updates. Information we provide is for your reference only