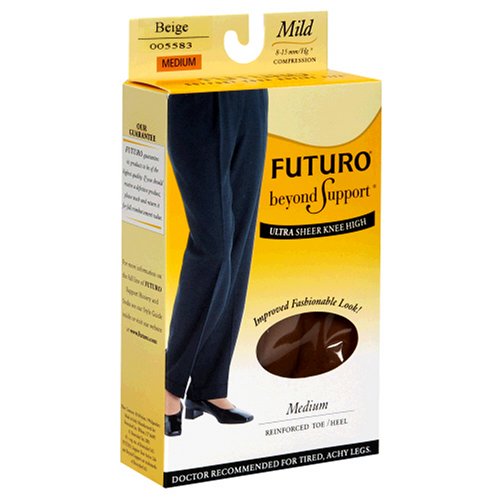 Futuro Ultra Sheer Knee Highs for Women, medium - 1 ea
Quick Overview
Futuro Ultra Sheer Knee Highs for Women, medium - 1 ea   8 -15 mm/Hg Compression. Improved fashionable look! Reinforced toe/heel. Doctor recommended for tired, achy legs. Futuro Mild Support...

Note: Check shipping rates on checkout page
Futuro Ultra Sheer Knee Highs for Women, medium - 1 ea
8 -15 mm/Hg Compression. Improved fashionable look! Reinforced toe/heel. Doctor recommended for tired, achy legs. Futuro Mild Support Hosiery takes you beyond everyday support. Our medically proven graduated compression knitting technology energizes your legs and helps relieve discomfort from tired, achy legs, varicose veins, and slight ankle swelling. Ideal for every day, especially when you are standing or sitting for long periods, walking or traveling. Relief.
You will feel invigorated as our graduated compression technology applies the right amount of pressure to your legs where they need it most, encouraging healthier blood flow and increasing circulation. It's like a gentle massage all day long. Comfort. Designed using fine European materials and state of the art knitting, you will experience outstanding comfort and fit. Reliable, soothing support allows you to stay active with confidence and do the things you want to do with pleasure and ease. Style.
Our hosiery incorporates all of the attractive features of fine fashion hosiery, while revitalizing your tired, achy legs. Finally, a contemporary look and feel with the effective support you need. Maximum compression at the ankle decreases gradually up the leg. Mild Support Knee Highs provide all of the benefits of graduated compression with the features and styling of fine fashion hosiery. Ultra Sheer materials for a natural look. Soft and silky for the ultimate comfort and fit. Enhanced toe with run guard and reinforced heel for maximum durability. Comfortable band to prevent slipping and binding.

Directions:


Directions for wear and care are enclosed. 
Image may vary from actual product due to Continuous manufacturer Product updates. Information we provide your reference only.