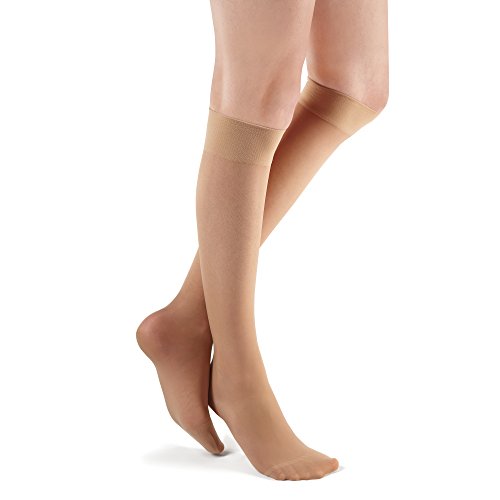 Futuro Revitalizing Ultra Sheer Knee Highs For Women, Medium Nude, Moderate - 1 pair
Quick Overview
Futuro Revitalizing Ultra Sheer Knee Highs For Women, Medium Nude, Moderate - 1 pairImproves circulation with maximum compression at the ankle that gradually decreases up the leg to provide an...

Note: Check shipping rates on checkout page
Futuro Revitalizing Ultra Sheer Knee Highs For Women, Medium Nude, Moderate - 1 pair
Improves circulation with maximum compression at the ankle that gradually decreases up the leg to provide an energizing feeling. Massage in Motion, Massages tired, achy legs move.  Ideal for Being on feet or sitting in one place all day, traveling, or active office work. Vein Therapy, Helps relieve symptoms of superficial spider and mild varicose veins. Fiber Content: 85% Nylon, 15% Spandex. 
Direction :
Place thumbs inside socks and gather material. Slip each foot inside socks and gradually pull up and over heel. Adjust heel for comfortable fit. Gently slide socks up each leg and smooth out wrinkles.
Warning :
Do not fold over bands or allow product to roll.

Image may vary from actual product due to Continuous manufacturer Product updates. Information we provide is for your reference only.