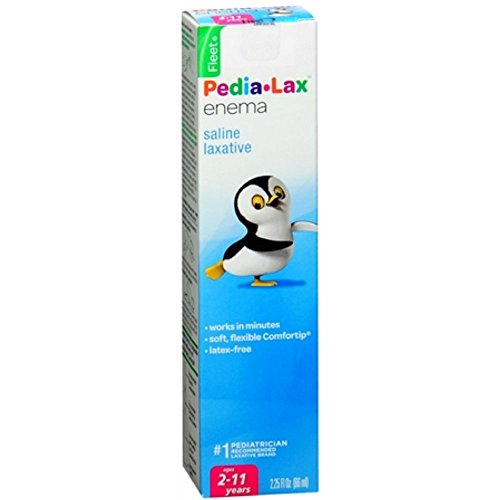 Fleet pedia-lax enema for children for ages 2 to 11 years - 66 ml
Quick Overview
Fleet pedia-lax enema for children for ages 2 to 11 years - 66 ml  For relief of occasional constipation or bowel cleansing before rectal examinations.No 1 doctor recommendedFor ages 2-11...

Note: Check shipping rates on checkout page
Fleet pedia-lax enema for children for ages 2 to 11 years - 66 ml 
For relief of occasional constipation or bowel cleansing before rectal examinations.No 1 doctor recommendedFor ages 2-11 yearsEnema saline laxativeLatex-freeSoft flexible comfortipWorks in minutesLatex freeAllergic reactions to materials containing latex is a growing and serious medical problemComplete enema in a disposable squeeze bottle with soft, pre-lubricated comfortipProtective shield prevents contaminationPre-lubricated comfortip for ease of insertionOne-way safety valve controls flow and prevents refluxEasy squeeze bottle
Active Ingredients (in Each 59 ml Delivered Dose):
Monobasic Sodium Phosphate (9.5 g), Dibasic Sodium Phosphate (3.5 g). 
Inactive Ingredients:
Benzalkonium Chloride, Disodium EDTA, Purified Water.
Direction :
Remove orange protective shield from enema Comfortip before inserting. With steady pressure, gently insert enema tip into rectum with a slight side-to-side movement, with tip pointing toward navel. Insertion may be easier if child receiving enema bears down, as if having a bowel movement. This helps relax the muscles around the anus. Do not force the enema tip into rectum as this can cause injury. Squeeze bottle until nearly all liquid is gone. It is not necessary to empty the bottle completely, as it contains more liquid than needed. Remove Comfortip from rectum and keep child in position until urge to evacuate is strong (usually 1 to 5 minutes).Do not allow child to retain enema solution for more than 10 minutes. If constipation continues after 1 week of use, contact your child's doctor.Positions for using this enema: Left-side position: Place child on left side with knees bent, and arms resting comfortably. Knee-chest position: Have child kneel, then lower head and chest forward until left side of face is resting on surface with left arm folded comfortably. Single daily dosage (per 24 hours). Do not use more unless directed by a doctor. 
Warning :

Do not use if child is taking another sodium phosphates product.Children 5 to 11 years: 1 bottle or as directed by a doctor; children 2 to under 5 years: one-half bottle (one-half bottle preparation: Unscrew cap and remove 2 tablespoons of liquid with a measuring spoon. Replace cap and follow how to use this enema directions); children under 2 years: do not use. Additional liquids by mouth are recommended while taking this product. this product usually produces a bowel movement in 1-5 minutes.For rectal use only. Dosage Warning: Using more than one enema in 24 hours can be harmful. Ask a doctor before using this product if he child: is on a sodium-restricted diet; has kidney disease. Ask a doctor before using any laxative if the child has: abdominal pain, nausea, or vomiting; a sudden change in bowel habits lasting more than 2 weeks; already used a laxative for more than 1 week.Stop use and ask a doctor if the child has: rectal bleeding; no bowel movement within 30 minutes of enema use; symptoms of dehydration (feeling thirsty, dizziness, vomiting, urinating less often than normal). (These symptoms may indicate a serious condition.) Keep out of reach of children. If swallowed, get medical help or contact a poison control center right away. Carton sealed for safety. 
If seal with Fleet emblem on top or bottom flap is broken or missing, do not use. For complete professional use warnings and precautions, consult Physicians' Desk Reference.


Image may vary from actual product due to Continuous manufacturer Product updates. Information we provide your reference only