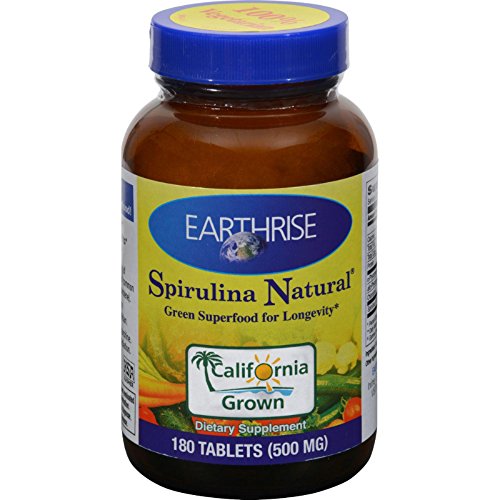 Earthrise, Spirulina Natural, 500 mg - 180 Tablets
Quick Overview
Earthrise, Spirulina Natural, 500 mg - 180 TabletsEarthrise Spirulina Natural Green Super Food For Longevity provides the equivalent of seven servings of vegetables in terms of antioxidant content. The foundation...

Note: Check shipping rates on checkout page
Earthrise, Spirulina Natural, 500 mg - 180 Tablets


Earthrise Spirulina Natural Green Super Food For Longevity provides the equivalent of seven servings of vegetables in terms of antioxidant content. The foundation of all Earthrise products is Spirulina Natural, which is a Green SUPER Food for Longevity and provides Immune Defense & Natural Antioxidant Protection. Eat your Spirulina greens for good health! Supplement your intake of fruits and vegetables with 1 serving of Earthrise Spirulina Natural Green Super Food For Longevity a day - the natural antioxidant content (beta-carotene). 

Earthrise Spirulina Natural Green Super Food For Longevity promotes immune health & provides antioxidant benefits. Earthwise Spirulina is the perfect aid for people to fight stress and to optimize health. Scientific and clinical studies show Spirulina Natural protects the heart and brain from oxidative stress while supporting a healthy immune system.
Active Ingredients :
Protein2 g,Vitamin A (as beta-carotene)7000 IU,Vitamin K16 mcg,Iron1.7 mgSodium25 mg,c-Phycocyanin185 mg,allo-Phycocyanin73 mg,Chlorophyll30 mg,GLA†30 mg,Total Carotenoids11 mg,Zeaxanthin2.9 mg,Spirulina (Arthrospira platensis)3 g,
Inactive Ingredients :
Vegetable stearates and silica.


Direction :        
Take 6-12 tablets a day (1-2 servings). If you are on a medication or have a medical condition, consult a physician.
Warning :
Please read all label information carefully on delivery and prior to use.


Image may vary from actual product due to Continuous manufacturer Product updates. Information we provide is for your reference only.