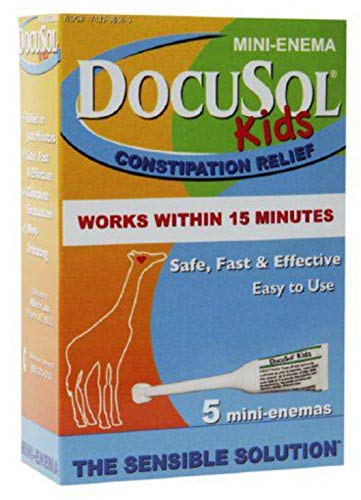 Docusol Kids Constipation Relief, Mini Enema - 5 ea
Quick Overview
Docusol Kids Constipation Relief, Mini Enema - 5 ea Works Within 15 Minutes. The Sensible Solution. Safe, Fast and Effective. Doctor Recommended. Easy to Use. Relief in Just Minutes. Complete Evacuation. Non-Irritating. 5 Mini-Enemas. For the relief of occasional...

Note: Check shipping rates on checkout page
Docusol Kids Constipation Relief, Mini Enema - 5 ea
Works Within 15 Minutes. The Sensible Solution. Safe, Fast and Effective. Doctor Recommended. Easy to Use. Relief in Just Minutes. Complete Evacuation. Non-Irritating. 5 Mini-Enemas. For the relief of occasional constipation (irregularity). This product generally produces a bowel movement in 2 to 15 minutes.
Active Ingredients :
Docusate Sodium USP 100 mg (Stool Softener Laxative)
Inactive Ingredients :
Polyethylene Glycol, Glycerine USP
Dierction :
Children 2 years to under 12 years and older (with adult supervision), one unit daily. Children under 2 years of age, consult a doctor prior to use. Twist off and remove tip. place a few drops of the tubes liquid cont on the shaft prior to insertion. Also apply liquid content or lubricant to the anus before before inserting the mini-enema. For best results, lay on left side with knees bent.
Warning :
For rectal use only. Do not use Laxative products when abdominal pain, nausea or vomiting are present. Laxative products for a period longer than 1 week unless directed by a doctor. Stop use and ask a doctor if you have: Rectal bleeding.

Image may vary from actual product due to Continuous manufacturer Product updates. Information we provide is for your reference only.