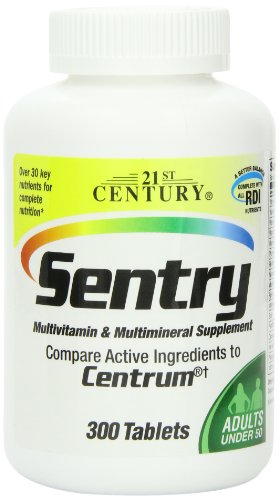 21st Century Vitamins Sentry Multivitamin & Multimineral Tabs - 300 ct
Quick Overview
21st Century Vitamins Sentry Multivitamin & Multimineral Tabs - 300 ct Chondroitin, glucosamine and methylsulfonylmethane, or MSM, are commonly found, either separately or together as a complex, in supplements marketed...

Note: Check shipping rates on checkout page
21st Century Vitamins Sentry Multivitamin & Multimineral Tabs - 300 ct
Chondroitin, glucosamine and methylsulfonylmethane, or MSM, are commonly found, either separately or together as a complex, in supplements marketed for joint health. They are also taken for relieving pain associated osteoarthritis - a painful degenerative condition that results in stiff, achy joints. These substances may offer anti-inflammatory and pain-relieving benefits.
Active Ingredients :
Vitamin A (as Acetate & 29% as Beta Carotene) 3,500 IU,Vitamin C (as Ascorbic Acid) 60 mg,Vitamin D (as Cholecalciferol) 400 IU,Vitamin E (as dl-alpha Tocopheryl Acetate) 30 IU,Vitamin K (as Phytonadione) 25 mcg,Thiamin (Thiamin Mononitrate, B1) 1.5 mg,Riboflavin (Vitamin B2) 1.7 mg,Niacin (as Niacinamide) 20 mg,Vitamin B6 (as Pyridoxine HCl) 2 mg,Folic Acid 400 mcg,Vitamin B12 (as Cyanocobalamin) 6 mcg,Biotin 30 mcg,Pantothenic Acid (as d-Calcium Pantothenate) 10 mg,Calcium (as Calcium Phosphate & Carbonate) 200 mg,Iron (as Ferrous Fumarate) 18 mg,Phosphorus (as Dicalcium Phosphate) 20 mg,Iodine (as Potassium Iodide) 150 mcg,Magnesium (as Magnesium Oxide) 50 mg,Zinc (as Zinc Oxide) 11 mg,Selenium (as Sodium Selenate) 55 mcg,Copper (as Copper Sulfate) 0.5 mg,Manganese (as Manganese Sulfate) 2.3 mg,Chromium (as Chromium Picolinate) 35 mcg,Molybdenum (as Sodium Molybdate) 45 mcg,Chloride (as Potassium Chloride) 72 mg,Potassium (as Potassium Chloride) 80 mg,Boron (as Borates) 75 mcg,Tin (as Stannous Chloride) 10 mcg,Nickel (as Nickelous Sulfate) 5 mcg,Silicon (as Silicon Dioxide) 2 mg,Vanadium (as Sodium Metavanadate) 10 mcg.
Inactive Ingredients :
Cellulose, Starch, Croscamellose Sodium, Stearic Acid, Silicon Dioxide, Titanium Dioxide, Magnesium Stearate, Artificial Colors Added (FD&C Yellow No. 6).
Direction :
As a dietary supplement, adults take one (1) tablet daily with any meal, or as directed by a healthcare provider.
Warning :
Keep out of reach of children. Do not use if product appears to be tampered with or seal is broken. Store at room temperature.
Image may vary from actual product due to Continuous manufacturer Product updates. Information we provide is for your reference only.