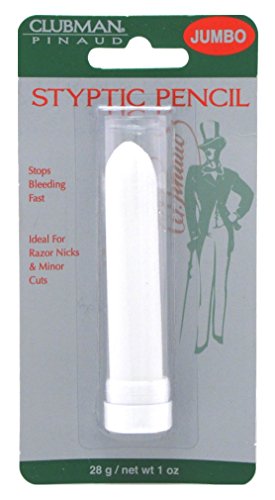 Pinaud Clubman Styptic Pencil, Jumbo - 0.88 Oz
Quick Overview
Pinaud Clubman Styptic Pencil, Jumbo - 0.88 Oz Clubman Styptic Pencil stops bleeding fast. Seals skin surface to help prevent the penetration of dirt and germs beneath the skin which can...

Note: Check shipping rates on checkout page
Pinaud Clubman Styptic Pencil, Jumbo - 0.88 Oz
Clubman Styptic Pencil stops bleeding fast. Seals skin surface to help prevent the penetration of dirt and germs beneath the skin which can lead to infection.
Active Ingredients : 
Aluminum Sulfate (Stops Bleeding). 
Inactive Ingredients : 
Titanium Dioxide. 
Dierction :
Moisten tip of pencil with water . Dab on affected area. Rinse and dry pencil after each use. 
Warning :
For external use only. Do not use in or around the eyes or other sensitive areas. If bleeding persists, discontinue use and consult a physician. Keep out of reach of children.

Image may vary from actual product due to Continuous manufacturer Product updates. Information we provide is for your reference only.